I painted the kitchen. I painted it blue.
Several weeks and several stacks of paint chips and I ended up at blue. My kitchen duck is happy. He feels right at home in his new kitchen. A little extra camouflage never hurt a duck.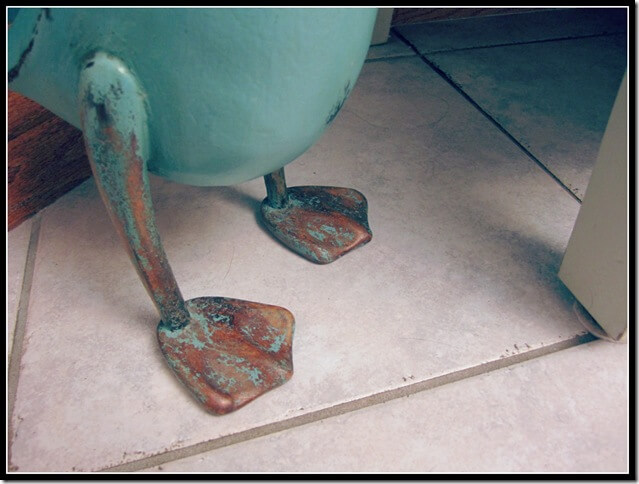 So what? You say.
Well, I say, this is a big deal. Huge, in fact. 2 weeks. 2 weeks! agonizing over the right colour, the right shade. Consumed I tell ya. My husband ran away and hid when I pulled out the paint chips. I had paint chips from Home Depot, Lowes, Home Hardware – because you never know who will have just the right colour.
I interrogated everyone who walked into our home. Including his golf buddies.
In the end, I walked into the hardware store with a chip that matched the greenish cabinet I purchased on a whim last year and said, "Help me."  That greenish cabinet being THE reason I NEEDED to paint in the first place. Sure, I've made colour mistakes before (yes, I'm fairly confident my indecision has something to do with these errors) but I've learned to live with them. But the green cabinet just did not work in my chocolate-brown kitchen. Hence, the redo.
I hate painting. Which means, no matter what I choose I would have to live with it for several years before I summoned the energy (courage) to try again. Ironically, I love colour, and I refuse to go beige. Beige feels like a cop-out. Beige is what you paint the walls when you don't know what else to do.
If only I liked beige, it would be so much easier.
The point of all this rambling? I haven't been cooking in my kitchen while it was under construction. Actually, even during the two weeks while I contemplated colours, I didn't do anything other than stare at the walls. The most I managed was a slower-cooker soup on the weekend while the doors were drying.
But don't be fooled, this is the best black bean soup I've ever made. Hands down. Paint on my fingers or no. This soup is fragrant and flavour packed. Chipotle and orange are magic together. Warning, the chipotle is rather spicy. This was much too spicy for the kids.
📖 Recipe
Chipotle Black Been Soup
Ingredients
1

large yellow onion

diced

1

green pepper

diced

3

cloves

garlic

minced

1

teaspoon

ground cumin

1

teaspoon

dried oregano

1

teaspoon

ground coriander seed

1

whole chipotle pepper in adobe sauce

very finely minced, most of the sauce removed (use half if you dislike spicy, add some adobe sauce if you want more)

The zest of 1 orange

plus the juice from this orange

1

cup

orange juice

this is in addition to the juice from the fresh orange

2 19

oz

cans of black beans

rinsed and drained

1

tablespoon

molasses

salt and pepper to taste

fresh cilantro
Instructions
Heat olive oil in a non-stick skillet. Add onion, garlic and green pepper and cook until soft. Add water if needed to prevent sticking. Add spices and cook until fragrant.

Add mixture to slow cooker. Add chipotle pepper, beans, orange zest and juice. Add enough water to cover beans by about 2 inches, about 2 cups. (You always add more during cooking if the soup appears too thick).

Cook on high for 4 hours. (or low for 6-8). Stir in molasses and using an immersion blender, purée the soup until smooth. Add salt and pepper to taste. Serve with fresh cilantro.