Jump to Recipe
Print Recipe
tangy and bright lime cheesecake - just like key lime pie, but using regular limes.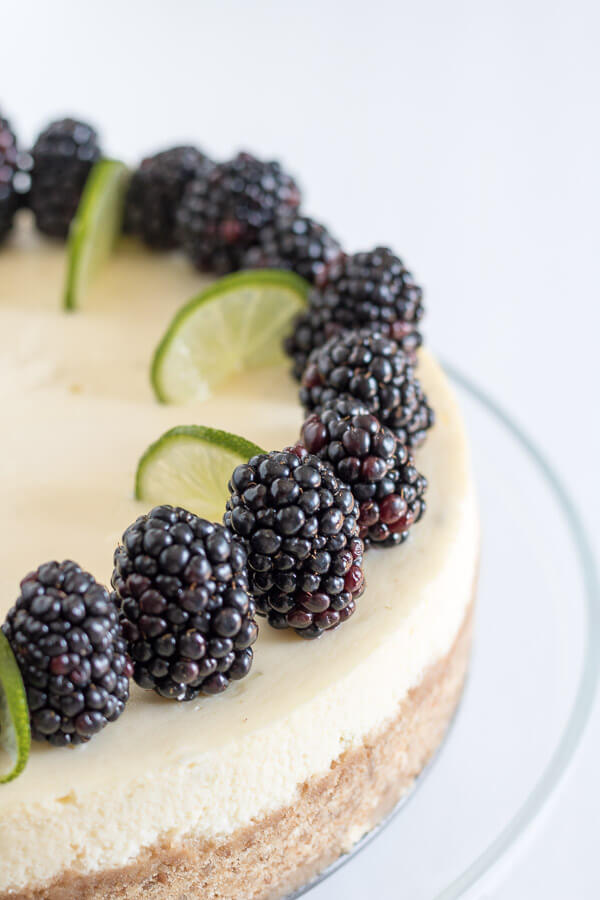 I've explained this thing I have, I've explained my love for cheesecakes before, so I won't go into details again. But, tell me you get me here. I know you do. There is something so grand, so special about a cheesecake.
This cheesecake - with its bright lime tartness - is perfect for the warmer months. For when you want something light (tasting, at least) and cool and creamy. Its' fresh and bright and so, so smooth.
I've paired this sunny cake with fresh blackberries simply because I found them super cheap, so I just could not pass them up.
Blackberries love lime I've discovered. If you can't find blackberries feel free to just skip them or pick another fresh berry that is in season -- blueberries, raspberries, whatever...
Use what you can get your hands on! For goodness sake. Please don't go and spend $12 on blackberries for this cake.. although I do love the combo of green and deep purple. For ascetics. But, really. find what ever is fresh and go with it. Lime is an equal opportunity fruit.
Notes:
for the crust I used Nilla wafer cookies. I like this light vanilla cookie crust.Almost like shortbread. You can use graham cracker crumbs if you rather, or if can't find the Nilla cookies. To make this cake gluten-free use enough gluten-free graham crackers pulsed in the food processor to make about 2 cups of crumbs
Use any kind of berries you can get your pretty hands on. Berries love lime.
I used a water-bath this time. I just knew I wanted a clean, crack-free, top on this cake. I find that baking in a water bath pretty much guarantees no cracks. Sometimes, if I know I'm going to cover the cake in something gooey, I don't bother and just cross my fingers. See recipe below for water-bath instructions. But know, you will need a roasting pan or deep sided baking pan that is big enough to hold the spring-form cake pan. There is a picture of what this looks like here, because I'm useless and completely forgot to take a picture while this cake was in process
Here is how you make it:

📖 Recipe
Key Lime Pie Cheesecake
tangy and bright lime cheesecake - just like key lime pie, but using regular limes.
Ingredients
2

cups

vanilla wafer crumbs

or graham cracker crumbs

6

tablespoons

butter

melted

3

8oz packages brick cream cheese, softened at room temperature

1

cup

sugar

1

teaspoon

vanilla extract

6

oz

blackberries

optional

zest from two limes

6

tablespoons

lime juice

you will need 3-4 limes depending on how juicy they are

3

eggs

2

tablespoons

Greek yogurt
Instructions
Preheat oven to 350. Since we will be baking this cake in a water bath, cover the bottom outside of the spring-form pan with aluminum foil to create a watertight barrier. Also find a roasting pan or other deep baking tray that will hold the spring form pan.

In a medium bowl mix together Nilla cookie crumbs with melted butter. Press into 8-inch spring form pan. Press slightly up the sides of the pan, about half inch. Bake at 350 for about 5 minutes to help set. Set aside.

In the bowl of a stand mixer, beat together cream cheese and sugar. Beat well until creamy and smooth. Beat in vanilla, lime zest and lime juice. Add eggs one, at a time, beating after each addition. Finally, gently stir in yogurt until just combined.

For water bath: heat a kettle full of hot water - about 1 L (4 cups) or more.

Pour cheesecake mixture into prepared crust. Place spring-form pan into the roasting pan and place whole thing in the oven. Once the water in the kettle is ready, carefully pour the hot water into the roasting pan so that it surrounds the cheesecake. Bake for 40-45 minutes. Cake should be firm but still slightly jiggly at the top. Turn off the oven and allow the cake to cool in the oven for about 30 minutes, then remove from oven and cool completely on a wire rack.

Refrigerate several hours or overnight before serving. Garnish with thinly sliced limes and fresh blackberries if desired.