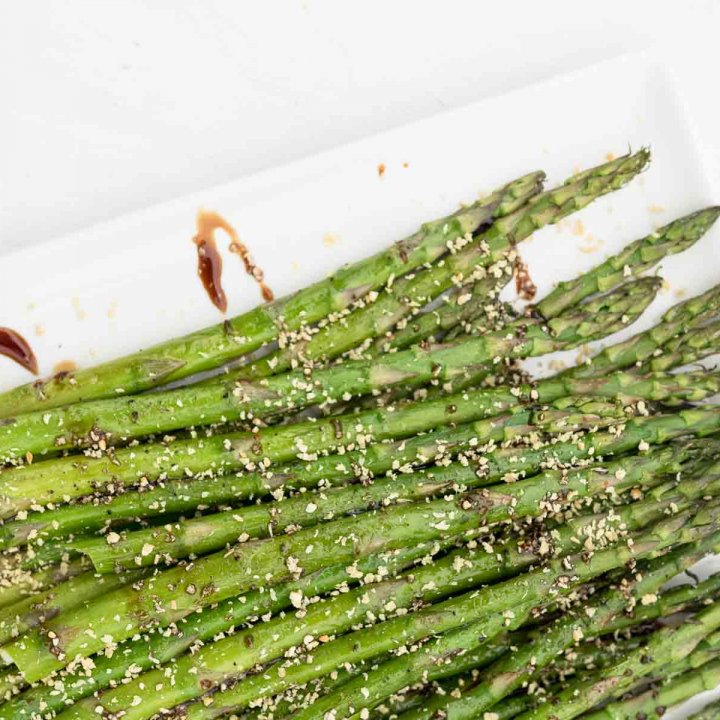 Jump to Recipe
Print Recipe
Easiest, no-fuss way to cook asparagus. Oven roasting is quick and mostly hands-free. Good balsamic adds a bright flavour, toasted bread crumbs add crunch.
Gluten-free, Vegan, Vegetarian
Oven-roasted asparagus with balsamic is so easy! Asparagus quickly cooks to perfection in a hot oven with little prep and little tending. making it an easy side dish any time. I've dressed this asparagus with rich balsamic vinegar and toasted bread crumbs for a bit of crunch. This recipe is vegan.
Asparagus season tends to be quick, and I try to take full advantage of it.
I learned to roast my asparagus in the oven years ago. It's quick and easy. But best of all, it is mostly hands-off! It's a simple dairy-free side dish that you can throw together and let cook while you get the rest of dinner together. Asparagus can so easily be part of a weeknight meal.
🔪Preparation
Asparagus is easy to prepare. A quick wash and a quick trim and it is ready to go.
Rinse the asparagus spears under cool running water and shake off excess water. Pat the spears dry with clean kitchen towel.
The ends of the asparagus spears can be thick, tough and woody. But you don't need to worry about peeling.
The easiest way to prep asparagus is to just snap the thick, tough ends off. Bend the spears close to the ends and the tough ends will snap right off
⏰ Roasting
Line a rimmed baking sheet with parchment paper. Arrange the spears in a single layer on the baking sheet, drizzle with olive oil and roll the asparagus around in the olive oil to evenly coat them. Sprinkle with salt and pepper.
Roast in a hot oven until tender and slightly crisp on the ends.
I prefer using a higher heat so that the tips of the asparagus get a little bit toasted and crispy. But also cooks quickly. I set my oven at 425
Don't overcook your asparagus! Fresh spring asparagus needs little cooking. Keep it crisp on the inside. It should not be limp and rubbery when it comes out of the oven.
🍴 Serving suggestions
There are so many flavor options you can add to roasted asparagus.
You can serve straight out of the oven, as is. Maybe add a nice quick squeeze of lemon.
Our favorite way to serve asparagus is simply with a drizzle of the best, balsamic vinegar we can get our hands-on. I am talking about the stuff that drizzles like syrup and is slightly sweet. You could also use a balsamic reduction (which you can find in many stores as well).
Tip: Search out a thick, rich, aged balsamic vinegar for dressing all kinds of vegetables, salads, and other dishes. Keep it only for drizzling on top of things.
I'm a fan of a rich, aged balsamic I get from a local kitchen store. I know, not much help. If you have a similar specialty kitchen shop with their own proprietary blends take advantage. A bottle is pricey but is worth every penny. And it will last you a long time.
One more note: To fancy this up a little bit, I like to sprinkle some toasted bread crumbs or parmesan cheese just before serving. To keep it vegan, I stick with toasted bread crumbs.
Toasted bread crumbs add a little bit of texture. Recently I've been experimenting with these gluten-free, soy-free, high protein crumbs from Longeve. They work just like bread crumbs and add a nice texture and crunch to dishes like this, or this one.
📖 Recipe
Easy Roasted Asparagus with Balsamic
Easiest, no-fuss way to cook asparagus. Oven roasting is quick and mostly hands-free. Good balsamic adds a bright flavour, toasted bread crumbs add crunch.
Ingredients
1

lb

asparagus

cleaned and trimed

1

tablespoon

olive oil

salt and pepper

1

tablespoon

balsamic vinegar

2

tablespoon

toasted bread crumbs
Instructions
Preheat the oven to 425 and line a rimmed cookie sheet with parchment paper.

Clean and trim the asparagus spears, removing the tough ends. Arrange the asparagus on the prepared cookie sheet. Drizzle with olive oil and roll the spears around to evenly coat. Sprinkle with salt and pepper.

Roast in a 425 degree oven for 10-15 minutes. Just long enough for the asparagus to become tender. Thin spears will cook faster.

Remove the roasted aspargus on a platter. Drizzle with balasamic vinegar and toasted bread crumbs. Serve immediately.
Notes
Use the best quality balsamic vinegar you have and drizzle.
Bread crumbs are optional but add a lovely toasty crunch. 
Calories:
84
kcal
(4%)
Carbohydrates:
11
g
(4%)
Protein:
3
g
(6%)
Fat:
4
g
(6%)
Saturated Fat:
1
g
(6%)
Sodium:
3
mg
Potassium:
229
mg
(7%)
Fiber:
3
g
(13%)
Sugar:
3
g
(3%)
Vitamin A:
857
IU
(17%)
Vitamin C:
6
mg
(7%)
Calcium:
27
mg
(3%)
Iron:
2
mg
(11%)