A vegan dinner just for me.
Generally I cook for the kids, or leave the sitter instructions to cook for the kids - you know, throw this in a 4pm @ 350 - type instructions.  So tonight was a bit of treat, I had the home to myself and needed to fix myself some din-din.
I could eat this kind of food all day!  I mean it. Really! I love noodles with bitter greens and beans.
This is a super quick meal you can have on the table in no time flat.
I used a mix of arugula and baby spinach in this recipe.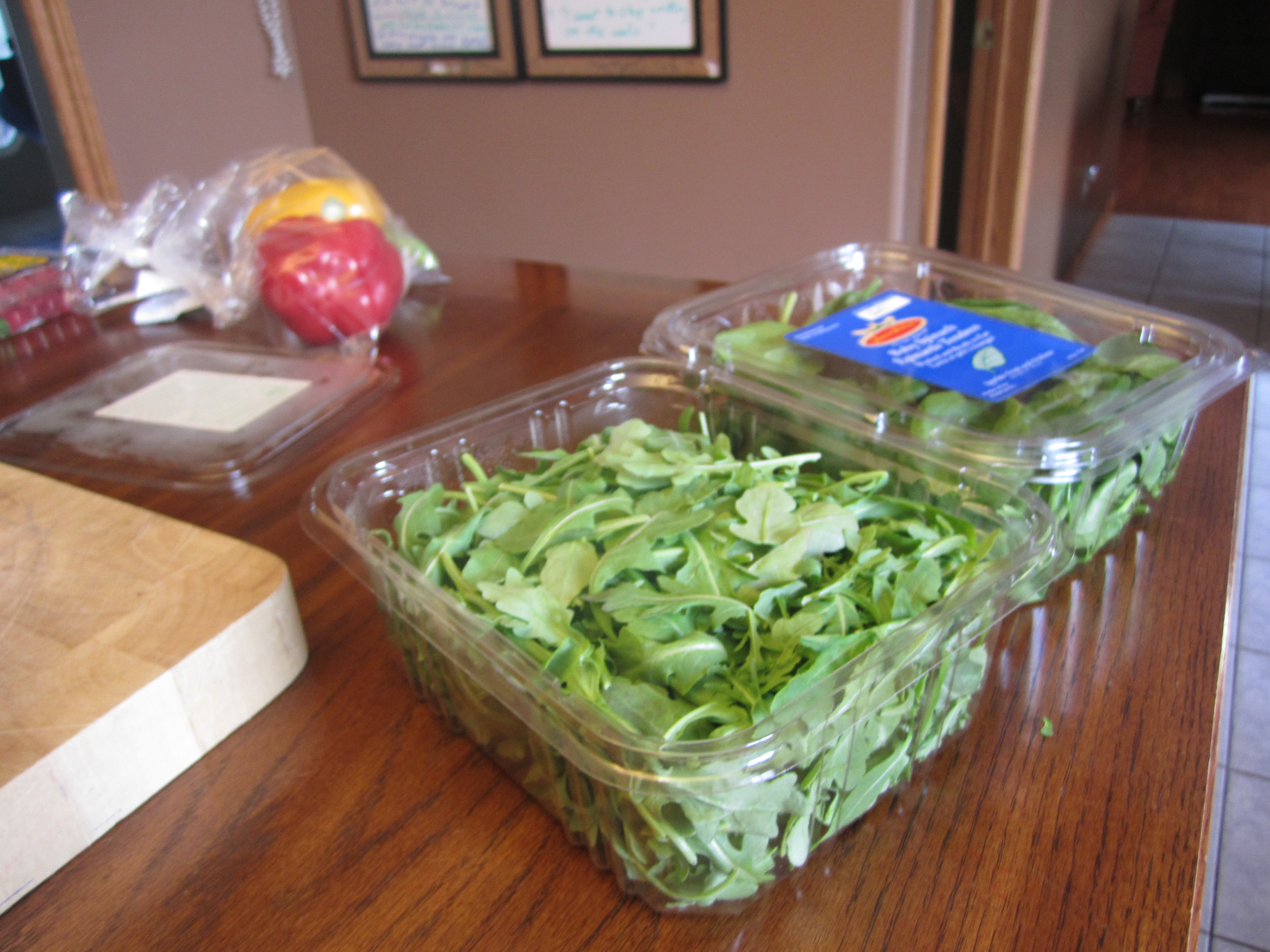 You could use all spinach or substitute whatever greens you have on hand - kale, rapinni, etc.  Just keep in mind the bitter factor, some greens are more bitter than others.  The peppery arugula was nice against the earthiness of the soba noodles and these greens are soft when cooked - kale can be a bit chewy.
Soba noodles with greens and beans
1 pkg dry soba noodles
1 19oz can while kidney beans, rinsed and drained, or 1-½ cups cooked beans
2 Tbsps vegetable broth, + more for thinning the sauce as needed
2 cloves garlic
½ - 1 teaspoon red chilli pepper flakes
3 green onions or scallions
5 cups greens
2 fresh tomatoes diced or 1 to 1-½ cups cherry tomatoes halved and quartered
Place pot of water on stove to boil for the past. Meanwhile open beans, rinse and drain. Chop scallions and tomatoes.
Cook pasta according to package directions.  Drain and set aside.
(If you are really quick and organized, the pasta will be done just as you are ready to add the greens to the skillet!)
In a large skillet, heat a few tablespoons of vegetable broth over med heat.  Add scallions and cook, stirring occasionally until wilted and fragrant, 2-3 mins.  Add garlic and beans.  Cook another few minutes to warm beans through.  Add more vegetable broth if mixture becomes dry. You do not want a soupy mess, just a small amount of liquid for the beans to simmer in.
Add greens, a handful at a time, turning and wilting each handful before adding more. (Of course this depends on the size of your pan, if you have a really big skillet, you can throw them all in and just turn, turn away...)
Once all greens have been added, toss in the cooked and drain pasta.  Toss together to mix.  Add the tomatoes.  If mixture is dry add a tablespoon or so of veggie broth. Simmer for just a minute more and serve.
A note about salt: I didn't add any to mine since the beans were canned and I find store-bought veggie broth salty.  So be careful if you are using canned ingredients.