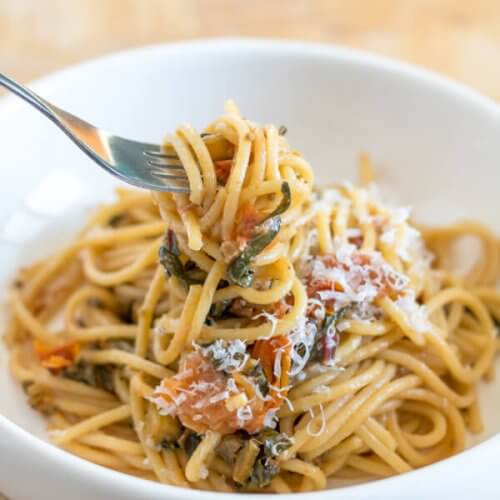 Jump to Recipe
Print Recipe
Simple, 30 minute vegetarian week-night meal.
Looking for a swiss chard recipe? I have one! You will love this garlicky pasta recipe full of healthy greens.
This week, this week, totally reaffirmed my understanding of how hard it is to eat healthy during the workweek. I actually stopped at a fast food restaurant on the way home and grabbed food for the kids for dinner ... twice. I did. Right here. I'm guilty.

Which in of itself would not be too bad, but true confession time -- I also ordered pizza one night, suggested dinner out another right, and "cooked" veggie burgers and fries the other. That was our food week.
I know. Who is this person!?
It's a wonder I managed to make dinner at all.
But then the prettiest swiss chard came with the veggie delivery last week. And it really is a wonder it didn't go bad before I got to it. But I was determined to make use of it.
Swiss chard recipes are hard to come by. I wanted a meal, not a side dish. And, obviously, given the week we just had, this meal had to be fast.
I've learned that most greens can be incorporated into a veggie pasta without too much trouble.
Spaghetti is a blank canvas - taking any random vegetable combination and making it into a hearty meal.
Another quick tip: Cherry tomatoes are a versatile veggie to have on hand.
I like to blacken and blister the cherry tomatoes in a hot cast iron skillet a little bit. It deepens their flavour - to something almost jammy. Giving the overall dish a bit more body. As the cherry tomatoes cook down, they will fall apart and almost disappear into a sauce.
This dish will come together in about 30 minutes. To help your timeline along... get the water for the pasta started as soon as you start to heat the cast iron skillet. Chop and clean the chard while the tomatoes blacken and sizzle. Keep an eye on them, and give the pan a shake every once in a while. This requires a little bit of multitasking, just a little bit. You can do it.
A few notes about making this Swiss Chard Pasta:
Careful adding oil to the hot skillet after you have blackened and blistered the tomatoes. It will be hot and oil will smoke almost immediately. Turn the heat down and help cool the pan by adding the chard stems right away.
Don't forget to season the pasta water and save some to cook the veggies. It helps to thicken the "sauce" and add body to the final dish.
Balsamic vinegar really makes this dish sing. Don't skip it.
Here is how you make Swiss Chard Pasta:
📖 Recipe
Swiss Chard Pasta with Blackened Cherry Tomatoes
Simple, 30 minute vegetarian week-night meal.
Ingredients
I small bunch swiss chard - stocks chopped and leaves sliced thinly

2

cups

cherry tomatoes

2-3

tablespoons

olive oil divided

1

tablespoon

balsamic vinegar

salt and pepper

a pinch of red pepper flakes

1

clove

of garlic

minced

250-300

g

spaghetti cooked to package directions - reserve ½ cup of water - divided.

½

cup

shredded parmesan cheese
Instructions
While the pasta water comes to a boil, get the tomatoes in a hot, dry skillet and let them blacken a bit. Shake the pan frequently. This takes 5-8 minutes. Meanwhile clean and chop chard. Chop stems into small half inch chunks and thinly slice the leaves.

Once the tomatoes are blistered and blackened in a few places, reduce heat to medium, quickly add olive oil and chard stems. (If you just add oil to a very hot pain it might smoke- so be careful)

Allow chard stems to saute and get tender. About 4 minutes, then add leaves, a pinch of chili flakes, the minced garlic, and about a ¼ cup of pasta water. Season with salt and pepper. Saute for a few minutes, until water evaporates and leaves are tender. Test you chard, stems should be tender to the bite, not mushy. Leaves just wilted. Water will be evaporated and thickened into a sauce.

Drizzle with another tablespoon of olive oil and 1 tablespoon balsamic vinegar. Cook for one more minute then remove from heat.

Add cooked pasta and toss in the pan with the vegetables. Add additional pasta water, just a splash at a time, if needed to keep sauce loose. Taste for seasoning, adjust salt and pepper if needed. Generously sprinkle with parmesan cheese. Serve
I love my 12 inch cast-iron skillet for this meal. It's big enough to hold the pasta to toss everything around and is perfect for charring the tomatoes at the start of the cooking process.
You might also like these easy weeknight pasta recipes: