Jump to Recipe
Print Recipe
Use a blender to whip up this fluffy pancake and bake it all in the oven. This one is served with a warm apricot compote.
Happy weekend! Guess what!? Hockey has already started. Yep, that's right, the kids are wearing flip-flops and tank tops to hockey practice!  I know! True story. As my Gav says, "It's not supposed to be this hot when you play hockey"
As weekend schedules settle around hockey timetables, I was feeling nostalgic about a time when i used to make special breakfasts here at home. Slow food. It's called breakfast.
To a time when not only did I have an hour to make something special, I had an hour or so before hand to browse the greater Internets to find the perfect weekend breakfast project. Try something new. Something better than PB&J or a bowl of cereal. Slower than smoothies. A meal that might actually have more than one step - Gasp! There used to be days like that. This Apricot Dutch Baby Pancake is one of those recipes . although, ironically, not particular hard or time-consuming. Consider the research done for you... and you just have to pick up this recipe and get to it.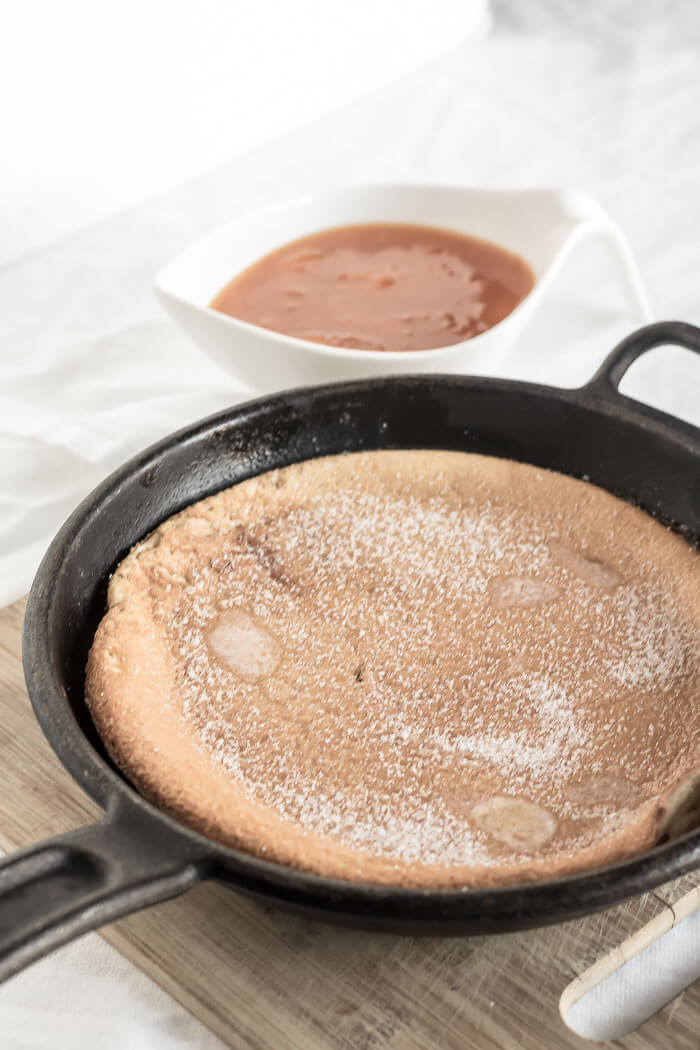 Fresh apricots are one of my favourite things.
They are a bit temperamental and unreliable... but a good fresh apricot is just that... Good. Sweet, jammy with a hint of tart freshness. If you don't have fresh apricots -- you can sub in just about any fruit. Peaches are kinda nice this time of year... move quickly though, they're almost done. Apples work too. Berries. Or just sub in some warmed up jam or maple syrup.
A few notes:
If you don't have apricots, use any kind of fruit you have to make the sauce, or just warm up some preserves with a little butter in a small sauce pan. It won't take long, maybe 5-8 minutes.
First things first, place your cast iron skillet in the oven and get both nice and hot while you slice up the fruit and make the batter.
When you are ready, and oven and skillet are heat through, you have to work quickly. Add the butter to the skillet and pour the batter into the pan, Immediately walk it all back into the oven.
This pancake will puff up when it's done, but deflate fairly quickly. Set the table while it bakes so you can serve it as soon as it comes out of the oven.
Apricot Dutch Baby Pancake
Use a blender to whip up this fluffy pancake and bake it all in the oven. This one is served with a warm apricot compote.
Ingredients
for Apricot compote
4

fresh apricots

washed, pitted and sliced (you don't need to peel)

¼

cup

white sugar

or to taste

1

tablespoon

butter
for pancake
3

tablespoons

butter

3

large eggs

¾

cup

milk

your choice, I used almond

½

cup

all-purpose flour

¼

teaspoon

salt

½

teaspoon

pure vanilla extract

¼

cup

white sugar
for serving
1

tablespoon

fresh lemon juice

1

tablespoon

white sugar

Apricot compote
Instructions
Preheat oven to 425 degrees. Place cast-iron skillet into the oven. You want the skillet hot.
for Apricot Compote
In a medium saucepan over medium heat, melt butter and add sliced fruit and sugar. Bring to a simmer, then reduce heat to low and allow to simmer while you make the pancake, stirring occasionally. Adjust heat to the mixture is simmering, but not scorching on the bottom of the saucepan.
for the pancake
Meanwhile, combine the following in a blender: eggs, milk, flour, salt, vanilla and sugar and cover with lid. Pulse several times and while combined, creamy and frothy. About 1 minute.

Remove the skillet from the oven, and melt 2 tablespoons of butter into the skillet. Once butter is melted, pour batter into the skillet and return to the oven. Bake about 20 minutes or until the pancake is golden brown on top and bottom. It will puff up and crisp around the edges.

Remove the pancake from the oven, sprinkle with lemon juice and remaining tablespoon of sugar. Cut into slices and serve with warm apricot compote on top.
Notes
Nutritional information is an approximation only and includes apricot compote.
Calories:
343
kcal
(17%)
Carbohydrates:
43
g
(14%)
Protein:
7
g
(14%)
Fat:
16
g
(25%)
Saturated Fat:
9
g
(56%)
Trans Fat:
1
g
Cholesterol:
157
mg
(52%)
Sodium:
313
mg
(14%)
Potassium:
131
mg
(4%)
Fiber:
1
g
(4%)
Sugar:
31
g
(34%)
Vitamin A:
602
IU
(12%)
Vitamin C:
1
mg
(1%)
Calcium:
77
mg
(8%)
Iron:
1
mg
(6%)