Jump to Recipe
Print Recipe
Fresh raspberries and poppy seeds make these muffins a fresh and bright breakfast treat.
Breads, Breakfast, Brunch
If you love a classic lemon poppy seed muffin, you will love these Raspberry Lemon Muffins. Sweet and fresh raspberries, light and nutty poppy seeds, and bright fresh lemon. These muffins are just what you needed for a little breakfast treat. You can use fresh or frozen raspberries to make these muffins.
More raspberries? Try these recipes: Fresh Raspberry Tart or these Gluten-free Raspberry Crumble Bars - both perfect for sharing!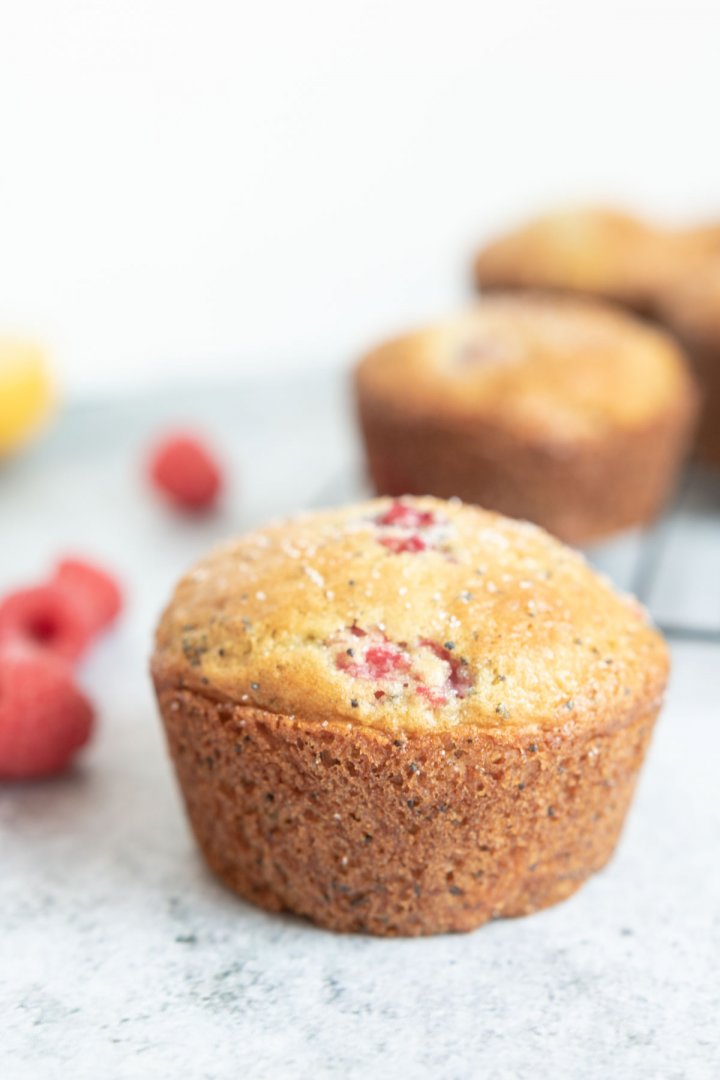 Thankfully fresh raspberries are available year-round. Honestly, when I buy a tiny little half-pint package at the grocery store, they rarely make it home. Raspberries might be my favourite fruit.
The better news is that these raspberry lemon muffins can be made with frozen raspberries just as easily as fresh. This is a bonus since frozen raspberries can be less expensive when they are off-season, and taste just as good. And I am less likely to eat frozen raspberries on the car ride home from the grocery store. So there is that too.
This is a classic lemon poppy seed muffin..... with raspberries
And they are perfect:
✓ Lemon zest and lemon juice make for a bright and full lemon flavour.
✓ Poppy seeds add a little earthiness to each bite and some texture.
✓ The tops are sprinkled with just a little bit of sugar to highlight the sweetness of the berries.
I used this most heavenly Rose Scented Sugar. Definitely a speciality item. You can use vanilla or lemon flavoured sugar too....or just a little plain white granulated sugar.
The source for my rose scented sugar is here. A source that is very local to me, and the produce is seasonal. But so worth the wait. You can also make your flavoured sugars -- try vanilla sugar or lemon sugar here. Both are relatively easy to make at home.
How to make Lemon Raspberry Muffins with poppy seeds
1. Grate the lemon zest
To really make the lemon flavour pop, grate the lemon zest and mix with ¼ of granulated before you do anything else. Somehow this simple step heightens the lemon flavour.
I get best results using a microplane when zesting citrus.
Once you have zested the lemon, juice it too. Set the juice aside for later.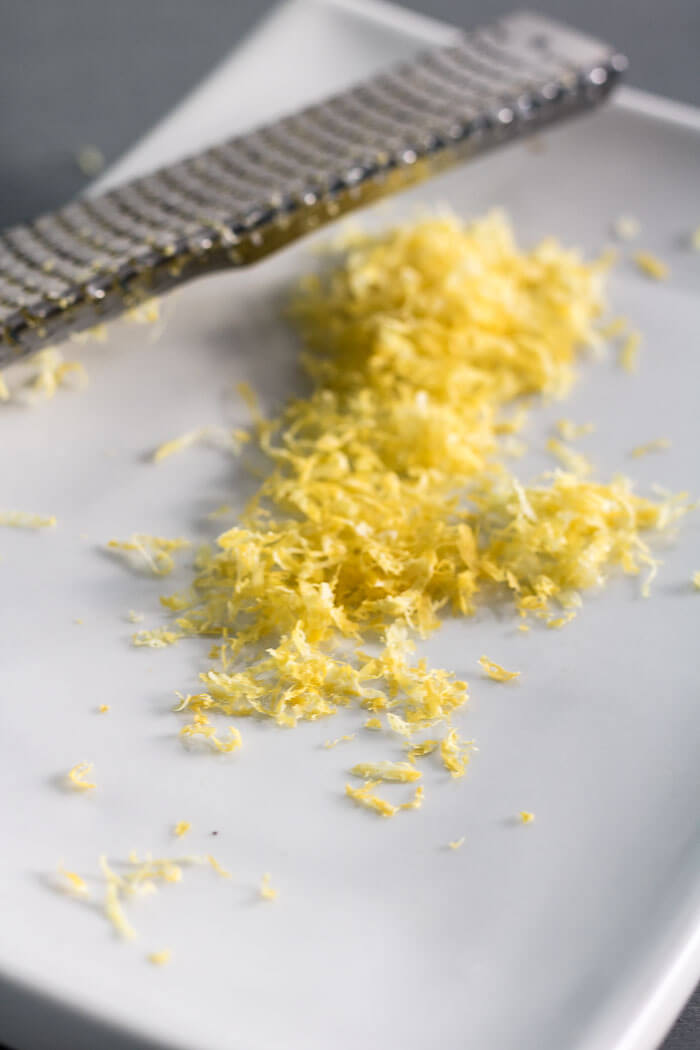 2. Mix the dry ingredients in a large bowl
In the same bowl as the granulated white sugar and lemon zest are in, add the other dry ingredients. Flour, baking powder, baking soda, poppy seeds and salt. Stir with a whisk or wooden spoon so that it is well blended and the poppy seeds are evenly distributed.
3. In a medium bowl, mix the wet ingredients
In a separate medium-sized bowl, whisk the eggs, cooled and melted butter, yogurt and lemon juice. Blend well so that you have a uniform and creamy mixture.
4. Combine wet and dry ingredients
Pour the wet ingredients into the larger bowl with the dry ingredients and gently fold with a spatula or wooden spoon to just combine. Folding just until most of the dry bits in the batter are gone. Don't over mix.
5. Add the raspberries
Be careful with the raspberries. They are delicate and will break apart. Gently fold the raspberries in to just incorporate them into the batter. Do not over mix. Being careful to not smash the berries.
You can use frozen berries in place of fresh berries here, just keep them frozen. Don't thaw them first. Frozen will hold their shape better and not turn the batter pink.
6. Bake
Just before baking, sprinkle the tops of each muffin with a little bit of sugar. Flavoured sugar is wonderful here. If you have it, use lemon, vanilla or rose-scented sugar. You just need a little bit to add sparkle and highlight the sweetness of the muffins.
Recipe Notes
You can use fresh or frozen raspberries for this recipe. If using frozen, do not thaw and keep frozen until you mix them into the batter. Otherwise, they will fall apart and leak juice throughout the muffins. You don't want this if you can avoid it, your muffins will be all pink, which sounds better than it will look.
DO zest your lemon before you squeeze the juice from it. I always forget and then try to get a little bit of zest of a squished half of a lemon. Zest then juice. For testing, I use a Microplane grater and a classic lemon press to juice.
DO use a spring-loaded cookie and batter scoop to fill the muffin cups. This helps to distribute the batter evenly and is less messy. I like this set, and use the largest size for muffins.
DO store your leftover poppy seeds in the freezer. Poppy seeds are relatively shelf-stable, but if you don't use them all that often and have extra laying around, the freezer will keep them fresher longer.
DON"T bother with paper liners. If you use a good cooking spray, I like this one, you don't need paper liners.
DO let the muffins rest in the muffin tin for about 5 minutes before you take them out of the tin and set them to cool completely on a cooling rack. This helps them set up a bit so they don't flatten immediately out of the oven.
📖 Recipe
Raspberry Lemon Muffins with Poppy Seeds
Fresh raspberries and poppy seeds make these muffins a fresh and bright breakfast treat.
Ingredients
¼

cup

white granulated sugar

2

teaspoon

lemon zest

2

cups

all purpose flour

2

tablespoon

poppy seeds

1-½

teaspoon

baking powder

2

teaspoon

baking soda

¼

teaspoon

salt

2

eggs

¾

cup

plain greek yogurt

6

tablespoon

unsalted butter

melted and cooled

¼

cup

lemon juice

1

cup

raspberries

fresh or frozen (do not thaw if using frozen)

granulated sugar for dusting
Instructions
Preheat oven to 375 degrees and prepare a 12-cup muffin tin with paper liners or spray with cooking spray.

In a large bowl whisk together granulated sugar and lemon zest.

Add dry ingredients to sugar and lemon mixture - flour through salt. Whisk to combine and evenly distribute ingredients.

In a medium bowl whisk together eggs, yogurt, butter, and lemon juice until combined and and smooth. Scrap egg mixture into the dry ingredients using a spatula. Stir wet and dry ingredients together gently using your spatula, using a folding motion, until just combined.

Next, fold in raspberries, being very careful not to break the raspberries. Gently divide batter evenly between the muffin cups. Sprinkle muffin batter tops with granulated sugar.

Bake until a wooden toothpick comes out clean, about 16-18 minutes. Allow muffins to cool for about 5 minutes in the muffin tin, then remove to a wire rack and allow to cool completely. Best served the day made. Store leftovers, once completely cooled, in an airtight container for up to 3 days.
Notes
You can use plain yogurt or greek yogurt for this recipe. I find Greek yogurt usually gives a richer texture and tangier flavor.  But use what you have on hand. 
Muffins will keep for about 3 days in an air-tight container -- room temperature or in the refrigerator. However, the texture is best the day they are made. 
I used a large batter scoop to evenly divide the batter between my muffin cups. I like this one.
Frozen raspberries work great! But you do have to be extra careful with them. Don't allow them to thaw before you mix them into the batter. 
Calories:
175
kcal
(9%)
Carbohydrates:
23
g
(8%)
Protein:
5
g
(10%)
Fat:
7
g
(11%)
Saturated Fat:
4
g
(25%)
Polyunsaturated Fat:
1
g
Monounsaturated Fat:
2
g
Trans Fat:
1
g
Cholesterol:
43
mg
(14%)
Sodium:
248
mg
(11%)
Potassium:
100
mg
(3%)
Fiber:
2
g
(8%)
Sugar:
5
g
(6%)
Vitamin A:
219
IU
(4%)
Vitamin C:
5
mg
(6%)
Calcium:
55
mg
(6%)
Iron:
1
mg
(6%)