Jump to Recipe
Print Recipe
Perfect for your weekend coffee, these little biscotti are not too sweet, full or dark chocolate and crunchy almonds. Whole grain with flaxseed.
Whole Wheat Dark Chocolate Biscotti with Almonds! This is an everyday cookie - not too sweet, full of whole grains including flaxseed, and enough dark chocolate and almonds to satisfy all your cravings.
Biscotti are my favourite kind of cookie. 🥰
It might be this cookie's affinity for coffee ☕️, my day is not a day without coffee. So it only goes, that my cookie must work with coffee. Indeed, these dark chocolate biscotti work very well with coffee. Morning coffee. Afternoon coffee. After dinner coffee. Just because it is noon somewhere coffee.
Dark chocolate biscotti is exactly as you would expect.It's not overly sweet like those store-bought biscotti. This one is definitely on the less sweet side of sweet. Which for me is the only way a good biscotti should be, and only makes them more addictive.
More healthy, crunchy cookies to try:
I've made this cookie with whole wheat flour and ground flaxseed because it makes for something alittle more on the healthier side. You get a bit of gut-healthy fiber in each cookie, for less than 100 calories.
Sure - I'll take one! Thanks.
Biscotti tends to be a lighter and lower fat cookie. There are is no added oil in this recipe. Sure eggs and almonds add fat, but also protien to each cookie. I reach for biscotti when I want something sweet -- for me it's a better choice than some of the buttered and heavily sugared options.
What makes biscotti, biscotti
Biscotti means "twice-baked" which is what gives them that crispy, dry and crunchy texture.
First, they are baked in a log shape. Here they will rise and puff up a bit. This is where the dough will "cook".
Second, the log is sliced into "fingers" and the fingers are baked at a lower temperature so they dry out. This is the second baking. The cookies will not rise or change in size during this time. And the intention is not to toast them too much either.
This is not a chewy cookie. It is crispy and dry. Ideal for dunking in that coffee. The second baking is the key to this texture and the key to biscotti.
How to make whole wheat biscotti recipe
Whip sugar and eggs together until they are creamy and frothy.
Add dry ingredients into the mixer and mix gently on low speed. Flour, ground flax, baking soda and salt. Do not overmix. Remove mixing bowl from stand mixer. Just a few swirls of the mixer blade should do the trick here.
Add almond and chocolate chips. Mix these in by hand. Be gentle with the batter, you want crispy cookies, not tough cookies.
Shape dough into 2 logs about 2-3 inches wide and 10-12 inches long each. I tend to do this directly on the baking sheet, pushing dough into shapes on the parchment paper.
Bake, the first time. Bake the logs for about 28 minutes at 350. Here the logs will rise and brown a little on the bottom. Once you remove them from the oven, let them cool at least 10 minutes, 30 minutes is better before you move to the next steps.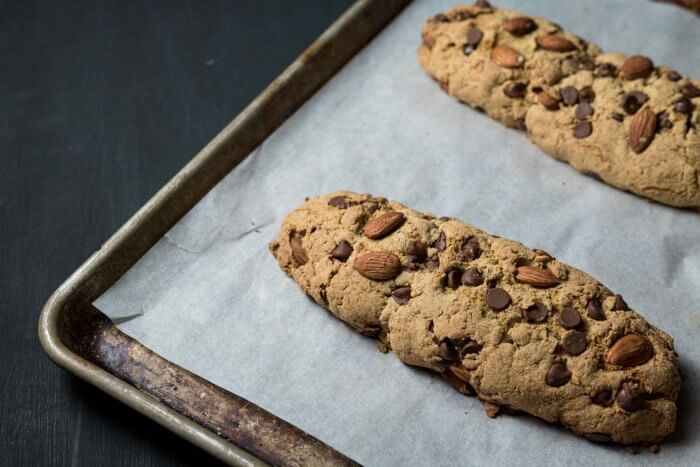 Slice. Each log should yield about 15-16 "fingers" or thin, long biscotti shaped cookies. I like to cut my biscotti on a diagonal to get long and thin cookies. Make sure the baked logs of cookie dough have cooled enough before you cut them. The chocolate will be molten lava if you cut them too soon and just run everwhere. Be patient.
Bake, the second time. Arrange the biscotti on the baking sheet, cut side down. They will not expand, rise, or otherwise change at this stage so you can fit them rather closely. They should not be touching though. Bake about 7 minutes at 325, and then flip over and continue to bake on the other side another 7 minutes.
Cool. Allow cookies to cool completely before enjoying or storing.
How to store biscotti
Biscotti was made for glass cookie jars. This is a long lasting at room temperature cookie. Keep them in a tin or a glass container. Not plastic if you can help it. This cookie can hang out a on the counter in a closed container for a while. Honestly, I would not know past a couple of weeks, because mine rarely last that long.
Freezing biscotti. These cookies actually do not do well in refrigerated or frozen because the moist environment messes with their crispy texture.
However....
If you freeze your biscotti, bake them again!
If you need to freeze your biscotti, toast them before serving again. Warm your oven to 250 or 300 and once the oven has come to temperature add the biscotti on baking sheet and turn off the oven.
If you can, set the biscotti upright (on the bottom) so that as little of the cookie is touching the baking sheet as possible.
You just want to toast the cookies a bit and remove any excess moisture.
Biscotti goes so well with a coffee ❤️
📖 Recipe
Whole Wheat Dark Chocolate Biscotti with Almonds
Perfect for your weekend coffee, these little biscotti are not too sweet, full or dark chocolate and crunchy almonds. Whole grain with flaxseed.
Ingredients
2

cup

whole wheat flour

2

tablespoon

ground flaxseed

½

teaspoon

baking soda

¼

teaspoon

salt

⅓

cup

white granulated sugar

⅓

cup

likely packed brown sugar

2

large eggs

1-½

teaspoon

vanilla extract

⅔

cups

dark chocolate chips

I used 70% cacao dark chocolate chips

⅔

cups

unsalted, whole almonds
Instructions
Preheat oven to 350 degrees. Line a rimmed baking sheet with parchment paper

In a small bowl combine flour, flaxseed, baking soda, salt. Whisk to combine.

In a bowl of standmixer fitted with a paddle attachment, combine sugars and eggs. Beat at high speed for about 2 minutes. Add vanilla and mix again. Add flour mixture and gently mix on low speed, a few rotations only. Remove from standmixer. By hand, fold in chocolate chips and almonds.

Dump the dough onto a clean work surface. Divide into two equal portions. Shape into two logs, logs should be 10-12 inches long and a couple of inches wide and 1 inch thick. Place the logs on the prepared baking sheet and bake, at 350, for 28 minutes. The dough should be firm. Remove to a cooling rack.

Allow logs to cool at least 10 minutes, up to 30 minutes. The chocolate will be molten for a while, and you will get a cleaner cut if you wait for the chocolate to firm up before slicing.

Slice each log diagonally into about 15 slices, to yield about 30 slices total. Reduce oven temperature to 325. Line the cookies up on the baking sheet, cut-side down, and bake at 325 for 7 minutes. Flip over, bake for another 7 minutes. Remove to a cooling rack. Cool completely before storing in an air-tight container.
Notes
Each cookie is less than 100 calories about 2 g of fibre. 
Biscotti means twice baked, so you will bake the cookies a second time after slicing them into the traditional biscotti, long finger-shapes. 
These cookies are best stored in a glass or tin container at room temperature for a couple of weeks. 
Calories:
92
kcal
(5%)
Carbohydrates:
13
g
(4%)
Protein:
3
g
(6%)
Fat:
4
g
(6%)
Saturated Fat:
1
g
(6%)
Cholesterol:
11
mg
(4%)
Sodium:
50
mg
(2%)
Potassium:
88
mg
(3%)
Fiber:
2
g
(8%)
Sugar:
6
g
(7%)
Vitamin A:
16
IU
Calcium:
28
mg
(3%)
Iron:
1
mg
(6%)