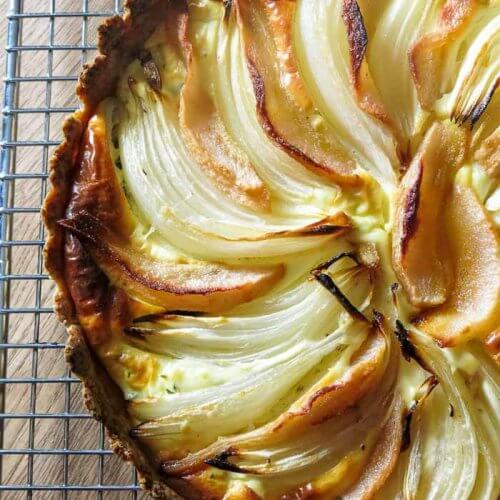 Jump to Recipe
Print Recipe
An impressive and savoury tart. Serve this as a starter during the cooler months.
A rich and impressive tart. Sweet pears and carmalized onions are made for goat cheese. This is a savoury tart. I love serving this in the fall as a starter or part of brunch table.
I've impressed myself. 
You will love this crust. Its made in the food processor and requires no kneading, no rolling. I love that! And this curst is vegan if you wanted to go that way with a different filling. I wasn't particularly concerned about that this time around, but I'm so happy with the crust that I know I will be using it again. I used Pompeian extra virgin olive oil in the crust. The fruity and bold flavour of the oil is a key flavour component
I've had a recipe for a Leek and Goat Cheese tart from an old Deborah Madison cookbook marked for ages now and I thought the goat cheese filling would be perfect with this olive oil based crust. I took the basic filling idea and changed it up a bit. Roasting the onions in the oven intensifies their flavours and bring out their sweetness. Plus it's an easy, hands-off way to cook them. I like that too. I added pears because I had a few perfectly ripe pears sitting on the kitchen counter and I love pears with cheese. You could omit the pears, but …  I'd just go with it, unless of course you don't have any. Then by all means, don't let the pears hold you up.

The tart itself does not bake all that long, but the components take some time so plan accordingly.
The tart shell could be made a day or two ahead, baked and kept at room temperature until ready to assemble the tart. The onions and pears should be roasted the day you make the tart. I find when you roast them ahead of time they lose some of the flavour that you worked so hard to develop while they roasted in the oven.
I would recommend this tart as a starter or sliced thinly as an appetizer. It would be a nice addition to a brunch table too. Best served warm or room temperature, I found it tastes even better the next day provided it has had time to get back to room temperature before serving.
Roasted Onion and Pear Tart with Goat Cheese
An impressive and savoury tart. Serve this as a starter during the cooler months.
Ingredients
for the crust
1

cup

all-purpose flour

1/3

cup

whole-wheat flour

(whole wheat pastry flour is best)

1

tablespoon

sugar

½

teaspoon

salt

6

tablespoons

extra-virgin olive oil

4

–6 tablespoons ice water
for the filling
1

average sized sweet onion

such as Vidalia, quartered, skins left on

1

average sweet pear

peeled and sliced into thin strips, about 12-16 slices.

olive oil for drizzling over onions

6

oz

soft goat cheese

1

large egg

1/2

cup

sour cream

2

teaspoons

fresh savoury

sage or thyme would also work nicely

salt and pepper to taste
Instructions
for the crust
In the bowl of a food processor, add flours, sugar, salt and pulse to combine. Using the pulse function, add olive oil one tablespoon at a time, pulsing a few times after each addition, until mixture becomes crumbly and coarse.

Now do the same with the ice water, adding 4 tablespoons of the ice water and continue to pulse until large clumps of dough form and no powdery bits remain, about 5 seconds. Add the remaining 2 tablespoons of water only if the dough still seems to be dry and is not clumping together. Again, only 1 tablespoon at a time and pulse a few times after each addition. This is a soft dough, it will not form a ball, but should stick together in small bits when you press some together with your fingers. (At this point, you could store dough, covered tightly in plastic wrap, in the refrigerator for 2 days or freezer for up to 4 weeks)

Dump dough into a 9-in tart pan with a removable bottom. Using your fingers push dough evenly over bottom and up the sides of the pan. Cover with plastic wrap. If needed, smooth the dough through the plastic wrap to even out any bumps. Place tart shell on a baking tray and freeze until firm, about 30 minutes.Preheat oven to 375.

Remove plastic wrap from frozen tart and prick surface with a fork all over. This will prevent any air bubbles from puffing up the crust. Ensure to prick the sides in several places as well. Cover tart with heavy aluminum foil and fill with pie weights or dried beans (that you use only for baking pies).

Bake on the middle rack for 30-40 minutes or until shell is golden brown and set. Allow to cool completely before filling and using. At this stage tart shell will keep at room temperature for 2 days.
for the filling
Preheat oven to 400.

Prepare onions by dusting off any dirt, cutting into quarters and placing on baking tray. Drizzle with extra virgin olive oil and sprinkle with sea salt. Bake until soft and slightly browned at the edges 30-40 minutes, depending on the size of the onions. Remove from oven and once cool enough to handle, remove tough outer layers and slice the soft remaining inside layers into slivers.

For pears, peel and slice pears and place on a baking tray lined with parchment paper. Add to the oven with the onions but watch carefully. Pears will be soft and fragrant after about 20 minutes. Don't let them dry out and burn. Remove from oven and remove any browned bits (often at the tops of the pears where the slices are narrow and thin).
to assemble tart
Preheat oven to 400.

In a medium bowl mash goat cheese until very soft and smooth. Add sour cream and egg and beat to combine. Add salt, pepper and fresh herbs. Spread evenly on bottom of pre-baked tart shell.

Arrange onion slivers in a fan pattern around the tart, on top of the goat cheese mixture.

Arrange pears in between the onion slices, evenly around the tart, 3-4 slices per quarter of pie.

Bake at 400 for about 30 minutes or until goat cheese has puffed up and browned.

Serve warm or at room temperature.

Can be made a day ahead. Bring back to room temperature before serving.