Jump to Recipe
Print Recipe
A simple roasted vegetable salad or side dish. Nice during the cooler months. I love this for a easy packable lunch. You can make this a day or two ahead.
Gluten-free, Vegan, Vegetarian
Lunch, Main Course, Salad
A hearty lentil salad tossed with warm and sweet roasted red peppers in a simple tahini dressing for a simple, packed lunch
This has been my mode lately.... pulling together whatever I have and calling it dinner. Or lunch. A meal. Simple combinations that feel very much like "non-recipe" dishes. Meals that come together even though I didn't start out with a plan. Planning and I, we are just not getting along right now. Instead I'm just opening the refrigerator and tossing random things into a bowl and calling in done.
Sometimes these random combos work really, really well.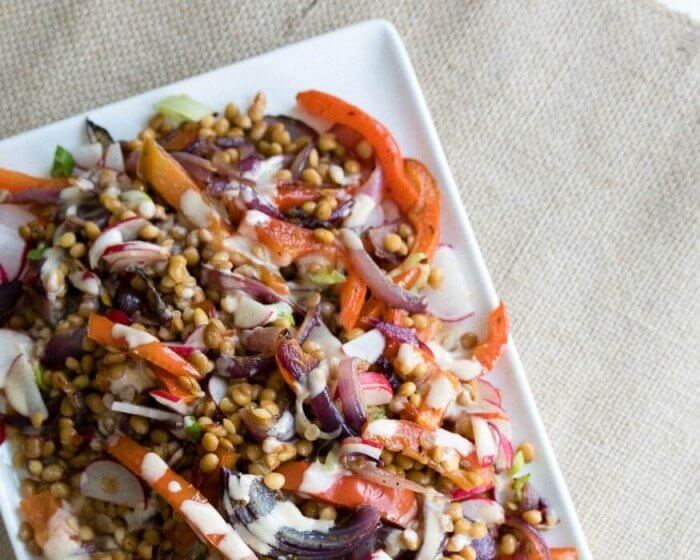 This lentil salad with roasted red peppers is just one of those combinations that works, really really well. Prefectly. And this dish just happened. Had it been a different day, under different circumstances, it probably would have happened differently. And ended up something else entirely.
Also lately - I'm addicted to tahini and lemon. I can't get enough. I am drizzling it over everything. Over something warm, and sweet, and filling like this.. this just makes me happy.
And also lately - everything has radish
and green onions...
During these cold dreary months, radish and green onions just may be my favourite salad ingredients. They brighten everything up.
A few notes about this lentil salad with roasted red peppers:
I used canned lentils, you will need about 3 cups cooked. But proportions are not very important.
I tossed the vegetables with some of this red pepper jam before roasting. Use red pepper jelly, which is easy enough to find in most supermarkets. Or if you don't have any on hand use a tablespoon of maple syrup. The extra sugar makes the peppers and onions just a bit sweeter, and I think that pairs nicely with the lemon and tahini dressing. The red pepper jam has a some spicy heat that I really, really like.
No tahini, how about sunflower seed butter? It makes a lovely lemony dressing too
Don't serve this hot, let the veggies cool off a bit for best flavour. To make a this a meal serve with a chunk of crusty bread or over cooked quinoa or rice.
Here is how you make this lentil salad with roasted red peppers and tahini dressing:
📖 Recipe
Lentil Salad with Roasted Red Peppers
A simple roasted vegetable salad or side dish. Nice during the cooler months. I love this for a easy packable lunch. You can make this a day or two ahead.
Ingredients
2 15

oz

cans green lentils

rinsed and drained (about 3 cups, cooked)

2

small red onions

sliced

1

large red pepper

sliced

1

tablespoon

olive oil

2

tablespoons

red pepper jelly

salt and pepper

bunch of thinly sliced radishes

bunch of green onions

white and green parts thinly sliced

fresh parsley
for he tahini dressing:
3

tablespoons

lemon juice

2

tablepsoons tahini

½

teaspoon

paprika

1

tablespoon

maple syrup

water to thin

as needed
Instructions
Preheat oven to 425

In a large bowl whisk together olive oil and red pepper jelly. Add red onions and red peppers into the red pepper jelly mixture and toss well so that the vegetables are evenly coated. Spread on a parchment lined baking sheet, sprinkle with salt and pepper and bake at 425 for 20-25 minutes or until lightly chared and sticky.

Meanwhile make dressing by combining dressing ingredients. Blend until smooth and creamy using a whisk or a blender. I like this dressing a bit on the thin side so I can drizzle over my salad, so I add water, a couple tablespoons at a time to get the right texture.

To assemble the salad. Toss together the roasted vegetables with the lentils and about half of the dressing. Gently toss with you hands then place on a serving dish. Sprinkle with fresh parsley, green onions and radishes, then drizzle with remaining dresssing. Serve warm or room temperature.
Notes
I like leftovers in a packed lunch served over rice.