Jump to Recipe
Print Recipe
Gorgeous red pepper jam with a sweet and spicy kick. Serve on sandwiches, withe eggs, or as part of cheese course.
Appetizer, Jams & Jellies, Preserves & pickles
Red Pepper and Chili Jam is perfect on top of everything! And makes a lovely gift for only your most favourite friends.
Look at this!!
Isn't this the prettiest jam you have every seen? I mean -- the colour! So bright, so deep, so red!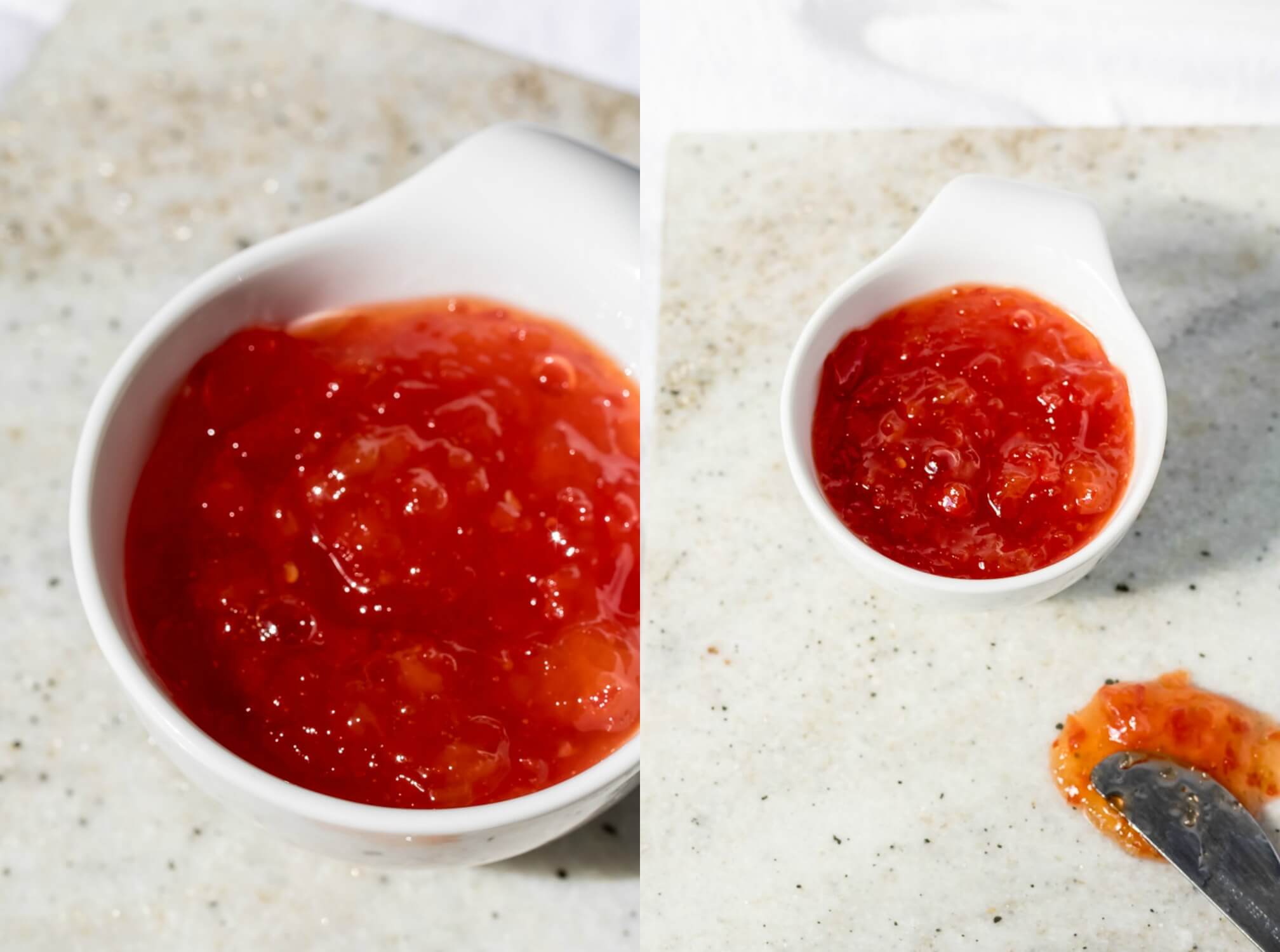 I am so in love with this stuff. This Red Pepper and Chili Jam. It might be the most perfect jam I have ever made. It's sweet & spicy, and so, so red 🙂 The balance of heat and sweet is sending me over the moon on this one. I am eating it on everything - literally. Veggie burgers, potatoes, cheese, eggs, throwing a dash on my salads, even on top of avocado toast. Everything.
 It's that time of year when the garden chilis are being harvested and taking over your kitchens. And while I can't promise you will use up the whole of your bumper crop with this jam, you will get to use a small lot of them. Maybe with the rest you can
make chili salt or something?
Both make wonderful holiday gifts BTW. I know it is early. But some things need planning ahead.
A few notes about making Chili Pepper Jam
This recipe makes a lot, 7-8 cups of jam. And given what it is - a spicy , sweet and savoury jam - I like to pack it in small 125ml jars which is a good size to pass around to friends, hold on for the holidays, or just the right size jar to have open and in the refrigerator for all your slathering needs. Regardless, be ready -- you will need about 16 small jars for this batch.
Recipe is slightly adapted from Sugar, Salt and Smoke. A book with all sorts of wonderful and interesting recipes for pickles, sauces and such.
Holidays are coming up! A small jar of spicy red pepper jam makes a nice addition to a hostess gift or on top of pretty cheese platter. Change up that baked brie you always make. 🙂
I used liquid pectin for this recipe. And I used a lot of it. You will need two boxes of Certo liquid pectin. Typically when you use liquid pectin you will use far more than you would dry crystals. I will warn you, crystals are not interchangeable for the liquid pectin in this recipe. They work differently and quantities would be different as well. Don't attempt it.
For the chilis I had hot cherry peppers. A cute, little red globe shaped chili with a nice clean and sharp heat. You can use whatever chili you have on hand. Please modify the quantity of chilies you use based on how hot your chilis are and how hot you want the finished product to be. I do find the jam mellows slightly after about a week.
To make handling the chilies easier -- i just threw them in whole in step one (the red bell peppers I seeded and roughly chopped). I didn't bother seeding or chopping the chilis. I figured a few pepper seeds would add to the heat but not take away from the look and texture of the jam. This saved me from getting any of the oil on my hands or cutting board.
📖 Recipe
Red Pepper and Chili Jam
Gorgeous red pepper jam with a sweet and spicy kick. Serve on sandwiches, withe eggs, or as part of cheese course.
Ingredients
8

sweet red bell peppers

cored, seeds and veins removed, chopped

6-8

red chili peppers

stems removed, otherwise left whole

7

cups

white granulated sugar

600

ml

apple cider vinegar

2

boxes Certo liquid pectin

340mls total
Instructions
In a large saucepan add peppers, sugar and vinegar. Bring to a boil, then reduce heat and simmer until the peppers are very tender - 20-25 minutes.

Allow to cool slightly, then add to a blender or food process, in batches if necessary, and pulse to finely chop the peppers. You don't want sauce, just enough so the mixture is chunky.

Return the mixture back to the pan and bring to a boil. Add the pectin and stir, returning to a boil. Cook and stir for 1 minute at a hard boil. Remove from heat then continue to stir 5-7 minutes. You will want to skim off any foam that rises to the top while you stir. Ladle into warm sterilized jars. Allow to cool completely, the jam will set and the lids will seal as the jam cools. Jam will keep for 1 year in sealed jars. Refrigerate any jars that do no seal, and once jar is opened.