Jump to Recipe
Print Recipe
Cranberry sauce spiced with cinnamon, clove, cardamom, allspice and a hint of orange. This is a waterbath canning recipe and will make 10-12 half pint jars, perfect for sharing during the holidays. Christimas in a jar.
Servings:
10
half pint jars
This spiced cranberry rum sauce is straight-up Christmas. Cinnamon. Cloves. Allspice. Cardamom. A hint of orange. And Rum! Stock your pantry while cranberries are fresh and cheap and get yourself ready for the holiday with this DIY holiday gift.
If you are looking for more holiday recipes for gift-giving, try this red pepper and chilli jam or this super easy apple pie jelly. Both are perfect for sharing!
It's a bit early for this post, but its canning season and I tend to get a little excited.
This Spiced Cranberry Rum Sauce smells and tastes just like Christmas. It is bright and tangy with all the holiday spices - cinnamon, cardamon, allspice and cloves. It smells so good while it is simmering.
You will want to have some of this on hand for the holidays. And since Canadian Thanksgiving is in October, I try to have some ready by then too. This cranberry rum sauce makes a lovely small holiday gift for friends, co-workers. Its a nice hostess gift.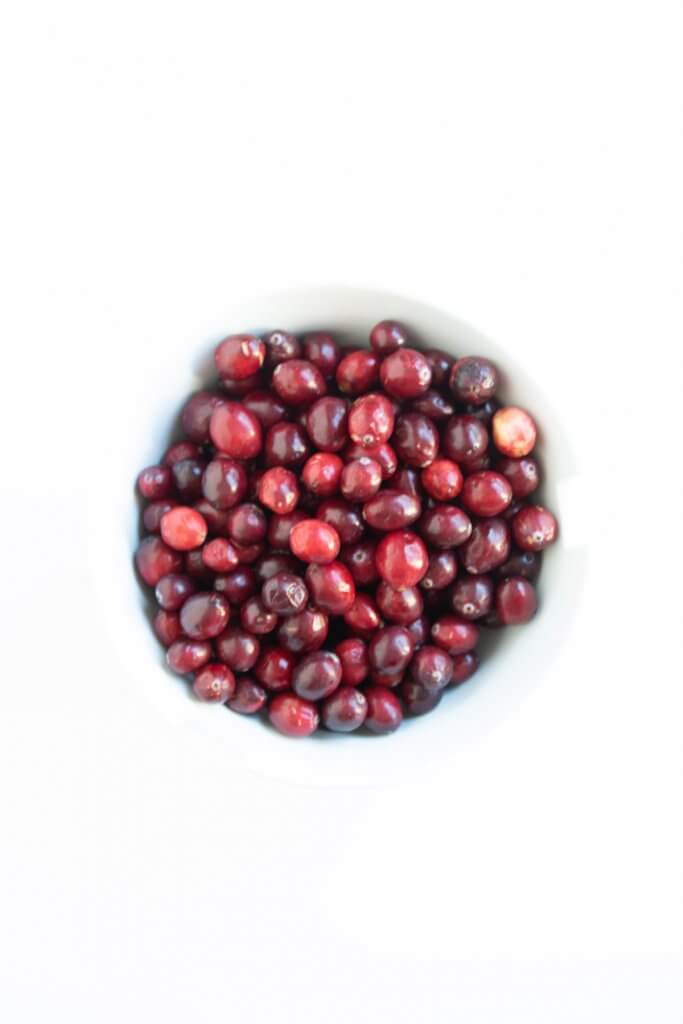 Serve, of course, on the holiday table with all the fixing. But it also makes an amazing appetizer. Try it over warmed brie or serve it on a cheese platter with sharp cheddar or creamy goat cheese.
Preparing Jars for Canning. Sterilize canning jars
wash them well with hot soapy water, rinse and dry. You can sterilize the jars by placing them in a 225-degree oven for at least 10 minutes. For this recipe, I get the jars cleaned and in the oven before I start simmering the fruit. That way I know they will be ready when I'm ready. It's okay for the jars to hang out in the hot oven until you are ready for them. This is my preferred method.
You can also sterilize the jars if you have a sanitize function on your dishwasher.
Or by placing them in the canning kettle, with water about ⅔s the way up the sides of the jars and bringing them to a boil for a few minutes.
while you are here, washing jars, and wash the snap lids and rings (sometimes called bands) as well. Rinse them well. Just as you are getting ready to fill the jars - maybe while the cranberry rum sauce is simmering, place both the lids and rings in a small pot or heat-proof bowl and cover them with hot water. I use my kettle to boil water and pour it over them. Then just let them hang out in the hot water until I am ready for them.
If you are new to water bath canning, please see this post for some of the equipment you will need. It's not expensive to get started, you probably have most of what you need already. You will need a water bath canner like this one.
The step-by-step water-bath canning process
Making a fruit preserve like cranberry sauce is pretty simple.
Step one. Prep everything.
Before you start any canning project the most important tip I can give is to get everything ready before you start. Canning is not hard but it is hot and time-sensitive. You won't have time to wash and clean stuff once you start the sauce boiling.
Set out all your equipment. Making sure it is clean and dry.
Sterilize your jars. See above. There are several ways to do this. I usually wash them in hot soapy water and then allow them to dry in the oven at 225 degrees C for at least 10 minutes. Tip: Just leave them in the oven to keep warm and sterilized until you are ready to fill them.
Wash and dry your ingredients and prep as needed. In this case, wash and clean the cranberries, peel and chop an apple, and prep the orange peel. Measure out the sugar and spices.
Make the spice bag. See the recipe below.
Fill your canning kettle with water, enough to cover the jars once they are full, and added to the pot. NOT FULL. About half full is good. The full jars will displace some of the water. Put it on a larger burner and bring it to a simmer while you prepare everything else.
Step two. Throw it all into a large pot stock pot.
Literally. Throw all the ingredients into a large non-reactive stock pot. You will want to use a stock pot that is tall enough to hold all the ingredients without boiling over. This mixture is going to boil hard and if your pot is not big enough it will splash all over you and your stove. This is messy. But also, this can be dangerous. The boiling sauce is very hot. So use a large pot.
Bring the ingredients to a simmer over medium heat and simmer for 10-15 minutes or until most of the cranberries swell and burst.
Once this is done, remove the spice bag, and using a potato masher, mash the cranberries until you have a nice consistency, breaking up most of the berries. I like to leave a few berries whole.
Return the spice bag to the pot and stir in the rum! I like a good spiced rum in this. After all, this is not spiced cranberry rum sauce without spiced rum! But really, any rum will do. Then bring everything to a HARD boil for 2-3 minutes.
HARD BOIL: A hard boil means that the sauce is bubbling quickly and violently. You will not be able to stir it down. It will continue to boil quickly as you stir.
Step three. Remove foam
For best results, once the sauce has boiled for the second time, remove from heat and stir and stir. This will bring some of the foam to the surface. Scoop off the foam as your stir. This will take 2-3 minutes.
Get rid of the foam! The foam is trapped air and will make the fruit float. To keep the fruit evenly distributed in the sauce, remove as much foam as possible. This is true for all jams, jellies, and chutneys. If you find they are foaming, take a few minutes to skim the foam off for a clear and even preserve.
At this point, your water-bath canner has been on the heat and is simmering. Remove the lid and lift the canning rack, if you have one, using the side rests of the rack to suspend the rack over the hot simmering water.
Step Four. Fill one jar at a time
Fill each jar leaving ¼ inch head space at the top of the jar.
Wipe the rim with a clean towel or paper towel, place the snap lid on top of the jar rim, and secure the band. Tighten the band only to fingertip tight.
Place the filled and closed jar onto the rack over the water bath canner.
If the last jar cannot be filled properly to ¼ inch headspace, close it up like the others, but do not process it in the water bath. Store it in the refrigerator and use that first.
Step Five. Process jars in a water bath canner
Once all the jars are filled, lower the jar rack into the canner, make sure the water level covers the tops of the jars by 2 inches, place the lid on the canner and bring to a boil. This can take 10-15 minutes.
When the canner starts to boil, remove the lid if you must to check to see if it is boiling, replace and lid and start the timer.
Process in a water bath for 10 minutes. Do not remove the lid during processing time.
At the end of the processing time. Turn off the heat and allow the kettle to come down in temperature for 5 minutes. Remove the lid and carefully lift the jar rack up and again suspend over the kettle.
Step Six. Let the jars cool and seal
Carefully remove each jar with oven mitts or a jar lifter and gently place them on a towel-covered surface where the jars will not be disturbed for 24 hours.
As the jars cool you should hear an audible pop! as the jars seal.
After 24 hours, any unsealed jars should be refrigerated. You can check that the jars are sealed properly as the lids should be slightly indented on top of each jar. They will feel solid with no wiggle. If the jar tops wiggle slightly when you press them, they did not seal properly. The contents are safe, place this jar in the refrigerator and eat in the next 5-6 weeks.
📖 Recipe
Spiced Cranberry Rum Sauce
Cranberry sauce spiced with cinnamon, clove, cardamom, allspice and a hint of orange. This is a waterbath canning recipe and will make 10-12 half pint jars, perfect for sharing during the holidays. Christimas in a jar.
Servings:
10
half pint jars
Ingredients
3-½

lbs

fresh cranberries

4 12 oz bags, washed and picked over for damaged fruit and stems

3

large apples

peeled, cored and diced

2

cups

water

4

cups

white sugar

peel from one large orange

orange part only, all white pith removed, cut into large strips

1-½

cups

dark rum

spiced rum is nice, but any rum will work
spice bag:
6

small cinnamon sticks

broken in half

8

whole cloves

6

whole allspice berries

4

cardamom seeds
Instructions
Make the spice bag
You will need a 6 inch by 6 inch piece of cheese cloth. Place spices on top - cinnamon stick, cloves, allspice and cardamom. Gather cheese cloth up and around the spices, making a small bag, secure with kitchen twine. You might need to break the cinnamon sticks in half so they fit nicely in the bag.
Prepare for canning
Wash jars in hot soapy water, rinse well then place in a warm oven - 225 degrees to sterilize and keep warm while you make the sauce. Wash lids and bands.

You will need 10-12 half pint jars for this recipe.

Fill a canning kettle about half full of water, so that tops of jars will be covered, and begin to heato to a simmer while you prepare the cranberry sauce.
Make the cranberry sauce
Add cranberries, apples, water, sugar, orange peel and the spicce bag to a large stock pot. Bring to a boil and boil, then reduce to a simmer. Simmer 5-10 minutes or until cranberries mostly burst.

Remove spice bag and using a pototao masher, break up remaining berries. Return spice bag to the pot and stir rum. Bring in back to a boil and boil hard for 2-3 minutes. Remove spice bag and ladle hot liquid into prepared jars. Water bath process for 10 minutes see post for details.
Notes
The above nutritional information is based on a full jar of Cranberry Rum sauce. A typical serving size for cranberry sauce is 2 tablespoons, there are 8 servings in each half-pint jar or approximately 50 cals per serving.
See the post for step by step how to instructions for filling jars and processing jars in a water bath canner.
Sealed jars will keep for about 12 months in a dark, cool pantry. Once opened used cranberry sauce within 6 weeks.
Calories:
398
kcal
(20%)
Carbohydrates:
96
g
(32%)
Protein:
1
g
(2%)
Fat:
1
g
(2%)
Saturated Fat:
1
g
(6%)
Polyunsaturated Fat:
1
g
Monounsaturated Fat:
1
g
Sodium:
6
mg
Potassium:
120
mg
(3%)
Fiber:
5
g
(21%)
Sugar:
88
g
(98%)
Vitamin A:
71
IU
(1%)
Vitamin C:
12
mg
(15%)
Calcium:
12
mg
(1%)
Iron:
1
mg
(6%)
More cranberry recipes for the holidays