Jump to Recipe
Print Recipe
A hearty vegan stew, warm and spicy with chipotle peppers and a hint of orange. Full of healthy plant-based proteins, This stew will fill you up and warm you up too.
This chipotle black bean stew is packed full of warm-you-up spicy-ness, rich roasted red peppers and a hint of orange. THIS is the bowl of goodness you want after a day spent enjoying the winter cold. It will warm your bones. Addictively spicy.
This recipe was originally posted in November 2012. I've updated the photos and added more information about the ingredients.
Go ahead and call this a chilli if you want. This black bean stew is on the chunky side, not quite thick enough to be chilli, too heavy to truly be a soup. This dish is hearty and filling. With just enough heat, yes it is spicy, that you will want a second bowl to tame the heat lingering after the last bite.
---
This is a recipe that seems to come out during a local winter 5k. Winter runs are just about getting out there, participating and cheering each other on. I'm still in awe when I think about how our whole family participated - mom, dad, kids, cousins, aunts, uncles, grandparents - ahhhmazing!
No one cares about PRs, goals or who came first. It's just about doing it. Or maybe it is the promise of a warm bowl of goodness that get's everyone out there. I don't know. That motivates me 😄!
This recipe was inspired by a recipe I found in a 2012 issue of Runners World magazine. I've modified it to feed a crowd. You could easily cut everything in half and make a small batch.
This is an easy recipe. Mostly a dump and simmer dish.
What's in the bowl, about the ingredients
Black beans. Black beans add fibre and healthy plant based protein. Mash a few up at the end ot the cooking time to release their natural starches and thicken this stew.
Roasted Red Peppers. I used jarred roasted red peppers. A big jar, you will need about 2 cups, or basically 3 or 4 whole peppers worth, depending on the size of them. I like to use the big jar of whole roasted red peppers and slice up 3 or 4.
TIP! I like ot use jarred roasted red peppers so that I can make this stew just about anytime with ingredients in the pantry. Yes - you can roast your own peppers. You will need about 3 large red bell peppers.
Chipotle Peppers in Adobo Sauce. These unassuming little cans of jarred saucy peppers adds so much warm heat, spicy and smokiness. This really is a key ingredient and I don't know of a good substitute. I always have a can in my cupboard. If you are senstive to spicy food, use less than noted below. These are spicy! The peppers more so than the sauce.
TIP! You will not need the whole can of chipotle in adobo sauce. I usually transfer the leftovers to a small jar witha lid and keep in the fridge for a few weeks, using a little here and there for dressings and other sauces. I like to add a teaspoon or so to this vegan queso cheese dip for a little smokey heat. I also use it in this potato salad.
Orange zest. Orange adds such a wonderful sweet scent and fragrance to this stew. Orange complements the spicy peppers beautifully and really take this dish from just a spicy chilli to something special.
How to make Chipotle Black Bean Stew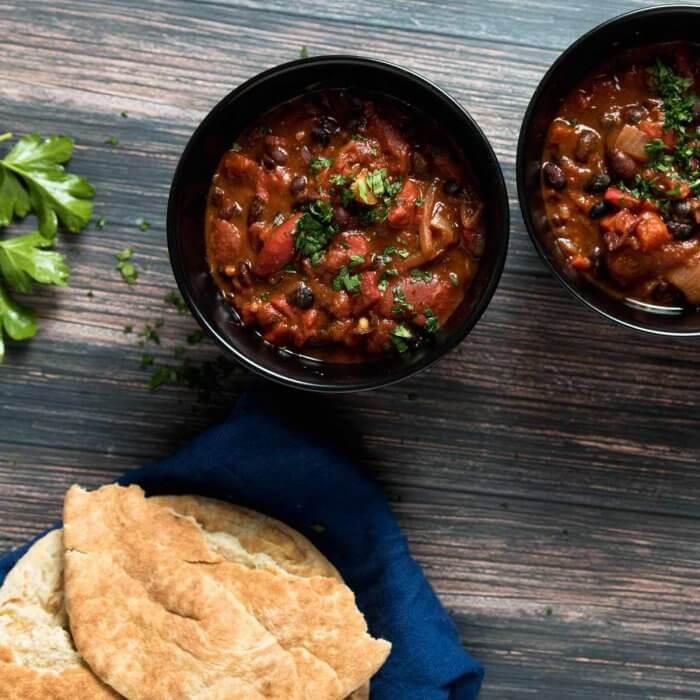 First saute onions in some oil in a dutch oven. You know this drill. It's easy.
Dump everything else in (except for the orange zest) bring to simmer and continue to simmer for about 30 minutes.
Mash a few beans. This helps thicken the stew and adds texture.
Add in orange zest a few minutes before serving.
Serve with:
sour cream
chives
cilantro
crusty bread for dipping
More warm you up, vegetarian soups, chillis and stews
Make ahead:
This stew can be made the day before and is one of those hearty soup, stews, chillies, that taste better the next day.
Reheat before serving either on the stovetop or in a slow-cooker on low for 2-3 hours.
📖 Recipe
Roasted Red Pepper and Chipotle Black Bean Stew
A hearty vegan stew, warm and spicy with chipotle peppers and a hint of orange. Full of healthy plant-based proteins, This stew will fill you up and warm you up too.
Ingredients
1

tablespoon

olive oil

2

small onions sliced or diced

3

19 oz cans

black beans

rinsed and drained, about 6.5-7 cups of cooked beans

2

cups

roasted red peppers

sliced thin

3

tablespoons

chilies in adobo sauce

or less for a not so spicy stew

2

28 oz cans

diced tomatoes.

Very good with fire roasted tomatoes. I used 2 small cans fire roasted diced and one 28 oz no salt added diced tomatoes

3

cups

vegetables stock or other liquid

I used ¾ cup dark beer and the balance vegetable stock for a total of 3 cups

2

tablespoons

cumin

salt and pepper to taste

zest of 1 large orange

fresh thyme
Instructions
Heat oil over medium heat and sauté onions until tender - about 5 minutes. Add beans, tomatoes, chillies and roasted red peppers. Bring to a boil, then reduce and simmer for 25-30 minutes. Part way through cooking use a potato masher and mash a few of the beans. Don't noticeably change the texture of the stew, just enough to release some of the starch from the beans and give the finish stew a thicker consistency. Just before serving (I did this the next day) add orange zest and thyme.
Notes
Adapted from Runner's World magazine, December 2012 issue. 
Nutritional information above is an estimate only.
This stew reheats beautifully and actually improves in flavour the next day, as the chipotle seems to mellow a bit.
Chipotle peppers in adobo sauce can be very spicy. Adjust as necessary if you are sensitive to spicy foods. 
Calories:
184
kcal
(9%)
Carbohydrates:
32
g
(11%)
Protein:
10
g
(20%)
Fat:
3
g
(5%)
Saturated Fat:
1
g
(6%)
Sodium:
1485
mg
(65%)
Potassium:
582
mg
(17%)
Fiber:
12
g
(50%)
Sugar:
2
g
(2%)
Vitamin A:
670
IU
(13%)
Vitamin C:
22
mg
(27%)
Calcium:
87
mg
(9%)
Iron:
4
mg
(22%)