Fresh salad wraps - so easy and versatile. Basically, a fresh summer roll filled with fresh salad ingredients. Mix it up! Add your favourite fresh veggies or protein. I like to keep these babies vegan.

Did I mention I got a new knife for Christmas? Is it possible to be in love with a kitchen tool? I love this knife. It is by far the best knife I have ever held in my hand. It is light and so sharp. So sharp. It scares me a bit it is so sharp. But I now know what it means to have a sharp knife. As my son says, who in no way shape or form is allowed to touch the new knife, "it cuts everything like it is made of butter." Oh, it does.
Apologies. But all I want to do is slice vegetables. So I made these salad rolls. Lots of veg prep. Lots.
Besides the chopping, these salad wraps are pretty easy to put together. And the kids love to help with assembling the rolls.
For a mid-week dinner, if you have the veggies prepped ahead of time, these vegan summer rolls are actually very quick to make. And they are so versatile, you really don't need a recipe. This is more of a technique. Fill them with any veg you want. You could fill them with leftovers even. This tofu stir-fry is great inside a rice paper wrap too. Just add some lettuce and you're good to go.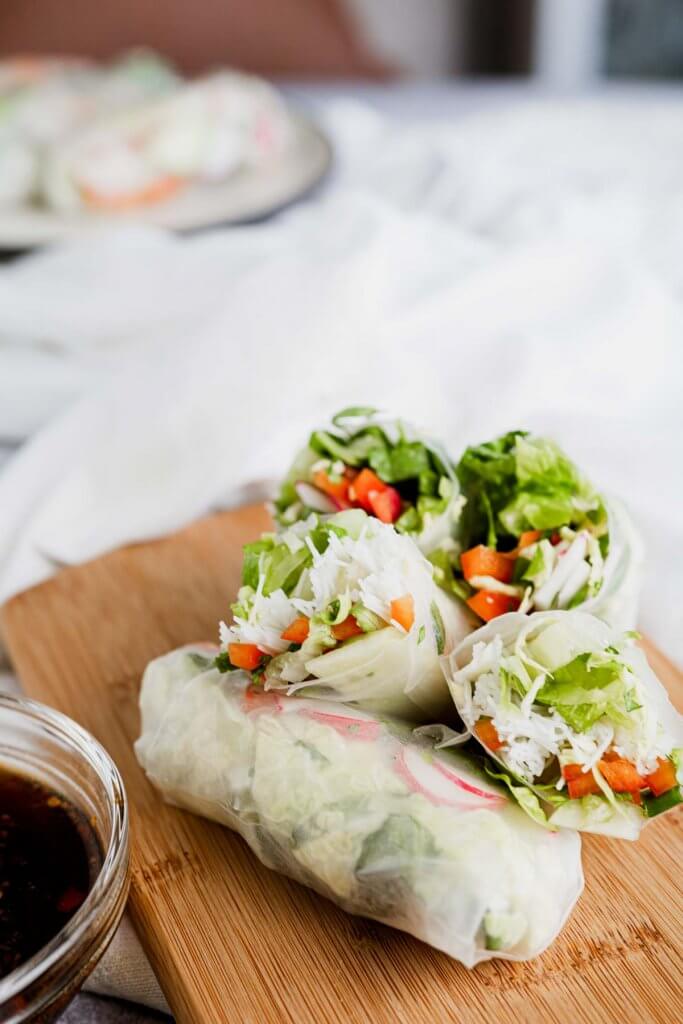 I took a platter of these babies to a New Year's Eve party and you couldn't even tell that the kids made some. I swear. (If I'm wrong about this, please let me know, I will send the feedback along to the sous-chefs.)
This is a great way to bring a salad to a party without looking totally lame, or like you are trying to stick to that New Year's Resolution.
How to work with rice paper wrappers
Working with rice paper wrappers takes a little bit of patience and practice. I used this method from White On Rice Couple's blog. I've found it is the easiest way to wet and get the wrappers pliable enough to work with.
My assembly required two 9-inch glass pie plates. One filled with water, the other in front of me for rolling.
Simply dip and turn the rice paper wrapper in the water until the entire surface is completely wet. I like to just get them pliable, not soft. They will continue to soften as you add your toppings. If you allow them to get completely soft in the water, they will be difficult to get out of the water and onto your rolling surface.
Then lay it in the other pie plate to assemble, fill and roll the wraps.
Once the wrapper is fully pliable be careful with it, it will tear pretty easily and it will stick to itself - kinda like plastic wrap sticks to itself. So don't get mad at it and wad it into a ball or something. You won't be able to straighten it out again.
Tip: for making ahead and toting this to a party - line up the salad rolls on a platter in a single layer, place a sheet of plastic wrap on top and add another layer of salad rolls on top of the plastic wrap. Plastic wrap will keep the wraps from sticking together.
How to fill rice paper wraps for summer rolls
Leaf lettuce is nice and soft and makes a good bottom layer.
Rice noodles make the rolls filling, but are not necessary. You could go with just lettuce and sliced veg and that would be nice.
Cook the rice noodles according to the package directions - which is something like "bring water to a boil, add noodles and remove from the heat." They don't take long.
Avocados - don't forget the avocado. It is necessary.
Vegetables should be sliced very thin:

cucumbers
radishes
sweet peppers
carrots,
thinly sliced red cabbage
bean sprouts

Protein is optional. For a party, I usually make some with cooked shrimp and some with just veg for us vegheads. Baked or marinated tofu works well too.
Herbs are essential. Must be fresh and leafy. Be generous!

Mint
Basil leaves
Parsley
Cilantro.
If you are serving salad wraps for a party
Serve these summer rolls with a dipping sauce to two!
For party apps, I usually serve with two dipping sauces. Something hot and spicy and something soy-based. A bottled sweet chili sauce works great for the former. The recipe below is my recipe for a garlic soy dipping sauce.
Quantities below filled a full package of 8 inch round wraps. But they come in all shapes and sizes so you may need to adjust. About 30 wraps.
For parties, or as appetizers, I slice each wrap in half so it's only a couple of bites and works well for finger food.

Make-ahead tips:
Salad wraps must be made the day you want to eat them. I would not recommend making these too far ahead of time. The rice paper wraps will start to fall apart over time.
So to prep ahead: get all your veggies chopped and sauce made. Cook the noodles if using for filling. And prep any protein you might want to add.
Then just before your party; for a quick weeknight dinner; or even for lunches during the week - assemble the wraps. Wet the rice paper wrappers and make a few rolls. It's easy!
Salad Wraps
Fresh summer rolls filled with just veggies and rice noodles. Easy, healthy, fresh and great for a crowd.
Ingredients
head of leaf lettuce

shredded

1

bell pepper

thinly sliced

2-3

large

fat carrots, julienne

5-6

radishes

thinly sliced

½

package rice noodles

about 2-2.5 oz of dry noodles, cooked according to package directions

25-30

rice paper wrappers

1

cup

of parsley

1

cup

of cilantro

½

cup

basil leaves

chiffonade

1

red bell pepper

thinly sliced

2

avocados

thinly sliced
For Garlic Soy Dipping Sauce
juice of one line and the zest

½

cup

soy sauce

¼

cup

maple syrup

¼

cup

water

1-2

cloves

of garlic

crushed

1

tablespoon

freshly grated ginger
Instructions
Prep all vegetables and arrange them on your work surface.

Using two glass pie plates, fill one with water and place the other, empty, in front of you for rolling the wraps.

Working one rice paper wrapper at a time, wet the rice paper wrapper by dipping and turning in water then lay flat on the other plate in front of you. Don't worry if the wrapper is not completely soft and pliable at this point. Just get the entire surface wet.

Starting with lettuce, then rice noodles, layer the vegetables on the top third of the wrap. Roll one turn over then tuck the sides in, continue to roll until wrap is complete.
For the garlic soy dipping sauce:
Combine all ingredients in a small dish.
Notes
Salad wraps must be made the day you want to eat them. I would not recommend making these too far ahead of time. The rice paper wraps will start to fall apart over time.
So to prep ahead: get all your veggies chopped and sauce made. Cook the noodles if using for filling. And prep any protein you might want to add.
The above quantities make 25-30 wraps, prefect for a crowd. But this recipe can be easily scaled for a smaller meal. 
Calories:
101
kcal
(5%)
Carbohydrates:
17
g
(6%)
Protein:
3
g
(6%)
Fat:
2
g
(3%)
Saturated Fat:
1
g
(6%)
Cholesterol:
2
mg
(1%)
Sodium:
333
mg
(14%)
Potassium:
135
mg
(4%)
Fiber:
2
g
(8%)
Sugar:
2
g
(2%)
Vitamin A:
1063
IU
(21%)
Vitamin C:
12
mg
(15%)
Calcium:
19
mg
(2%)
Iron:
1
mg
(6%)