Jump to Recipe
Print Recipe
Simple weeknight meal. Vegan. Savoury flavours of soy and sesame. Just 5 ingredients and made in less than 30 minutes.
This simple tofu scramble with carrots might be the easiest vegan dinner recipe ever. Always a favourite dinner in our house, this recipe's easy, simple flavours, is loved by kids. Its salty and savoury and perfect over a bed of rice. I love the short ingredient list and that it is full of healthy plant-based protein. It is perfect for a busy night.
Looking for more easy weeknight dinners with tofu, try this easy tofu curry or our favourite BBQ tofu sliders!
Quick post today. Mostly because I'm tired and out of time, but also because this quick Tofu and Carrot Stir-Fry requires little discussion. An easy meal that will be ready in less than 30 minutes - for the crazy night of the week.
The kids love this meal -- kids love soy flavoured anything. I love it because the list of ingredients is short and consists mostly of staples, so I usually have everything on hand to make this when plans get away from me.
Tofu scramble for dinner
Many tofu scrambles are designed to fit in at breakfast, maybe as a stand in for eggs or a vegan breakfast omelet maybe. But this tofu scramble is for dinner!
Salty and savory.
Flavoured with soy, cilantro and sesame. Serve this tofu scramble over rice or as a component to a buddha bowl.
TIP: Get a rice cooker - you need one
Hands down a rice cooker is one of the best small appliances I have ever purchased. It's right up there with my immersion blender.
Rice cookers are usually fairly inexpensive as far as small appliances go. Get one that has a timer and will keep the cooked grains warm once cooked. You can make rice first thing in the morning and it will keep warm all day. ALL DAY! It will be just perfect when dinner rolls around. I promise. Dinner is half ready and you haven't even take your coat off yet. Its a magical thing.
And - a rice cooker will cook other whole grains too (rice, brown rice, quinoa, anything) during the week.
A note about pressing tofu
It's essential to press your tofu before you make this dish. The longer the better.  Pressing the tofu is something you can do in the morning. Just drain the tofu and wrap it in paper towels and place it between 2 plates. Then stick it in the fridge with something heavy on top. If you press the tofu, I find it crumbles better and you get a bit more fried, stir-fried texture.
Not pressed tofu can leave the tofu wet and mushy in the finished dish. Not the texture you are looking for.
If you are in a hurry, you forget in the morning chaos, like I do most of the time, a quick press is better than none at all.
Before you start grating the carrots (or put the rice on even), drain and wrap the tofu in towels and place a weight on it. Just let it hang out on the counter while you get everything else started and chopped. It might be only 10 minutes but it improves the texture.
Ingredients for savoury tofu scramble
Here is everything you need to make this simple, savoury tofu scramble for dinner and why each of them work.
Tofu - use water packed, firm or extra-firm. Extra firm is my favourite. See tips above about pressing tofu. Pressing helps remove the water that is always in a block of tofu, and you want to do this so the tofu is dry and has a toothsum texture. If you avoid pressing it, even just a few minutes helps, the tofu could feel mushy. You don't want that!
Carrots - I like my box grater to do the carrots, but if you must, you can go fancy and use a food processor with a grater attachment. A box grater is just a little easier to clean even if it requires a bit more elbow grease to get the job done. You can also buy carrots pre-shredded at most grocery stores. You will need 1 lb of carrots, about 3 large fat carrots.
Soy sauce - tamari also works. It is a main flavour in this dish, so make sure you enjoy the flavour of the soy sauce.
Toasted Sesame oil - sometime called dark sesame oil. Usually this comes in small bottles and must be kept refrigerated. Made from toasted sesame seeds, it has a deep toasted flavour. Used as a flavour enhancer only at the end of the dish - this is not the oil you "stir-fry" with.
Sesame seeds - a generous ⅓ cup is added at the end of cooking process. The seeds add texture. I like how they sorta pop as you bit into them.
Cilantro - you need a bit of fresh to brighten this dish and cilantro is by far my favourite herb in this case. If you don't care for cilantro (i get it, not everyone does) thinly sliced green onions works nicely too.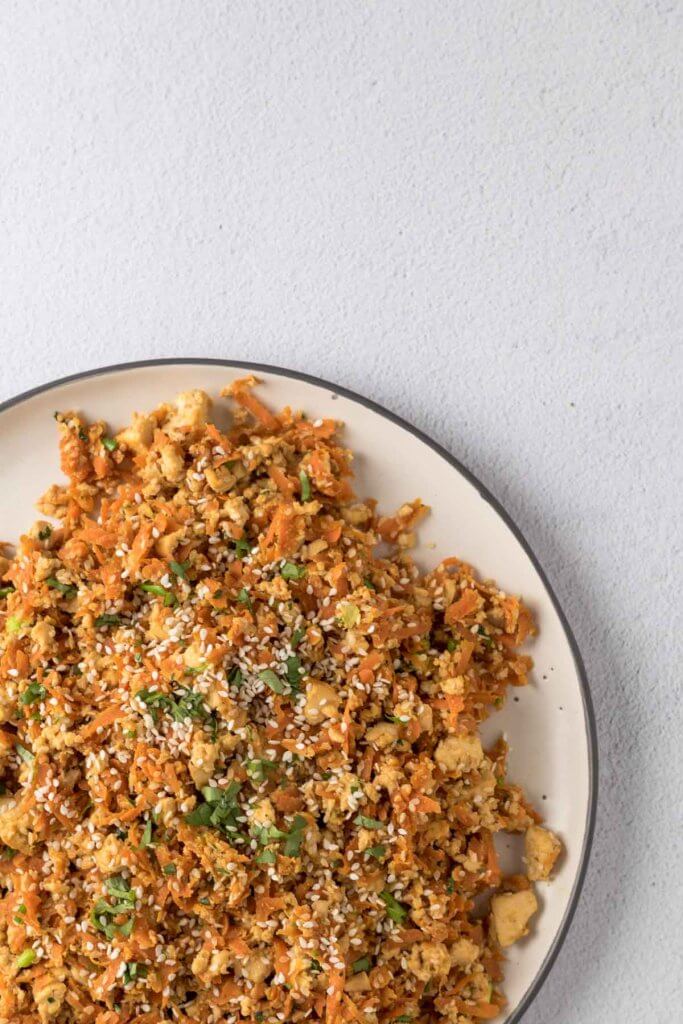 3 easy steps to dinner
Make the rice - use a rice cooker! See note above. And if you are smart you started this long ago and your rice is just ready and waiting for you
Press the tofu - you can press the tofu for 10 minutes or 10 hours. Really it's up to you. I often get this ready in the morning. But if you don't, wrap it in a towel and press for a few minutes while you grate the carrots and chop the cilantro.
Stir-fry the carrots - over medium heat, stir-fry the carrots with a little bit of high-smoke point oil for 10-15 minutes. I use canola or grapeseed oil. You could also use coconut oil. Just use an oil with a high smoke point. (DO NOT USE THE TOASTED SESAME OIL FOR THIS). You want the carrots to soften. They will smell a bit sweet and lose a little of that bright orange colour.
Add the tofu - you want to crumble the tofu before you add it to the carrots in the saute pan. I do this with clean hands and just press it through my fingers. Strangly satisfying, although maybe a bit messy. And I like the uneven texture.
Cook the tofu until hot. You may want to add a bit more canola oil to the pan if you find things are sticking. About 5 minutes.
Add the fininshing touches - take everything off the heat and toss in the sesame seeds, sesame oil and cilantro.
That's it! Serve
📖 Recipe
Carrot and Tofu Scramble
Simple weeknight meal. Vegan. Savoury flavours of soy and sesame. Just 5 ingredients and made in less than 30 minutes.
Ingredients
1

tablespoon

oil

canola, grapeseed or coconut- use a high smoke point oil.

1

pound

carrots

grated

1

pound

extra firm tofu

drained, pressed and crumbled

⅓

cup

soy sauce

⅓

cup

sesame seeds

1

teaspoon

dark sesame oil

¼

fresh cilantro

chopped (optional)
Instructions
On medium-high heat, add oil to a non-stick skillet. Add carrots and stir-fry for about 15 minutes. Add tofu, crumbling it into the pan by pressing it through your fingers. Continue to stir until carrots are soft, about another 5 minutes. Toss in soy sauce, and sesame seeds. Cook 1 minute more, ensuring evenly distributed. Remove from heat. Add sesame oil and cilantro. Serve with rice.
Notes
Press the tofu while you grate the carrots. 
Press tofu, even just a quick 10 minute pressing, will improve the texture of the final dish.
Calories:
232
kcal
(12%)
Carbohydrates:
17
g
(6%)
Protein:
14
g
(28%)
Fat:
13
g
(20%)
Saturated Fat:
2
g
(13%)
Sodium:
1231
mg
(54%)
Potassium:
637
mg
(18%)
Fiber:
5
g
(21%)
Sugar:
7
g
(8%)
Vitamin A:
18944
IU
(379%)
Vitamin C:
7
mg
(8%)
Calcium:
198
mg
(20%)
Iron:
4
mg
(22%)