Jump to Recipe
Print Recipe
a sweet late summer stew of tomatoes, butternut squash, fresh sweet corn and lima beens served over oven-roasted potatoes
American, Gluten-free, Vegan, Vegetarian, WFPB (Whole Food, Plant Based)
Jump to:
This! This is summer comfort food. A late summer succotash - fresh sweet corn, butternut squash and lima beans lightly cooked in a sweet, lovely broth. Serve with roasted potatoes to soak up all the juices and turn this traditional side dish into a vegetarian main meal. Preserve the summer harvest with this recipe - this makes a large pot, save half and stash in the freezer to brighten up your winter.
Before you know it the garden will be bursting with all the fresh veggies. This recipe is coming at you just as we are starting to see fresh sweet corn on the stores. Soon sweet corn will be everywhere. And when it comes, I wanted you to be ready.
Succotash is traditionally served as a side dish. A cooked medley of tomatoes, sweet corn, other vegetables, and lima beans. Butternut squash and sweet corn are the stars of this recipe. Sweet and warm, sunny... because it is late summer.
Serving this dish over top a bowl crispy roasted potatoes turns this into a hearty vegetarian main meal.
⏰ The "stew" will cook in about the time it takes to roast the potatoes in a hot oven, which means you can have this meal on the table in just over 40 minutes.
This is a generous recipe. I've intentionally made this recipe big enough so you can serve some today for dinner and save some for another night. It freezes well. In the middle of winter you will love that you have a batch stashed in the freezer to remember summer.
Leftovers also make a very quick meal. Just reheat in a medium sauce pan until steamy. Serve with potatoes again, or just with a crusty loaf of bread.
I've used butternut squash in this version. Often you will see succotash made with summer squash - a yellow or green zucchini. I like butternut because its sweetness compliments the sweet corn. And its long shelf life means I always have one ready to go.
Also, we planted butternut squash in the garden this year, so I'm in butternut recipe collection mode.
🔪 Instructions
Start by prepping the potatoes.
Preheat the oven and then scrub and cut potatoes into bite-sized pieces. Toss the potatoes on a rimmed baking sheet with some olive oil and salt and pepper. They will need about 30 minutes in a hot oven. While they cook, make the stew.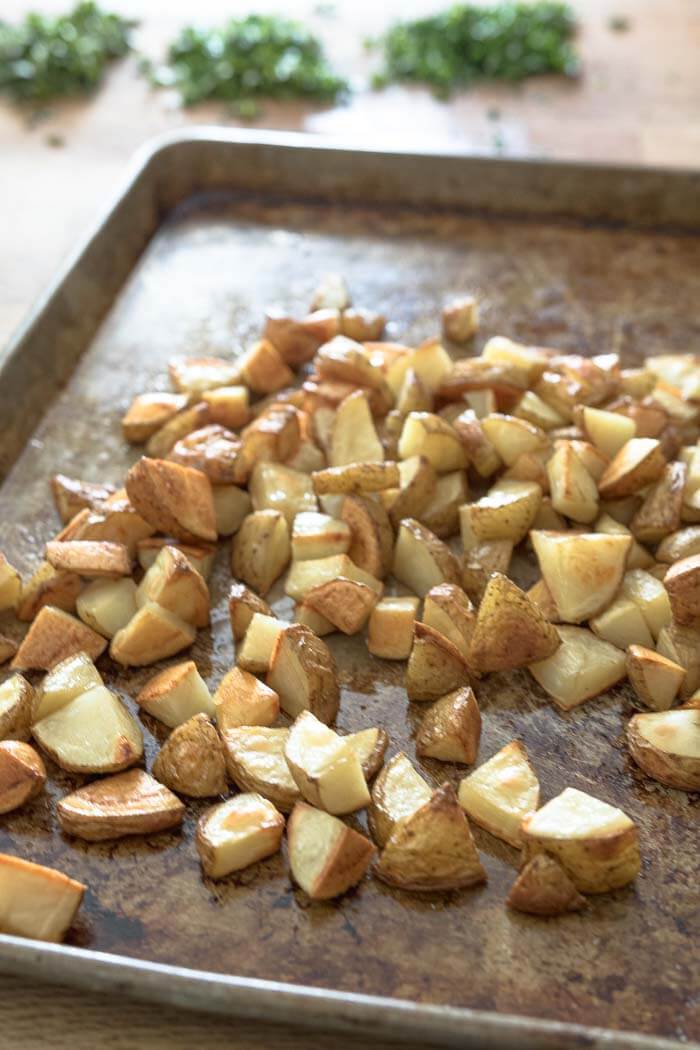 While the potatoes cook, heat a large pot or dutch oven over medium heat. Melt butter and or heat olive oil then saute leeks until tender. This will take 5-6 minutes. They get soft and start to melt together. Sprinkle with some flour to make a roux. Stir and toast the flour and leeks into a creamy paste, for about a minute.
While the leeks simmer I chop the squash and the tomatoes. I don't bother peeling either. I fresh young squash will have tender peel. Just give it a good scrub and you are good to go. I trim off any blemishes.
Then add the stock, tomatoes, and squash. Scrape the bottom of the pot to pick up any of the yummy bits left on the bottom. Let this simmer for about 10 minutes, then add the fresh corn and lima beans. Continue to simmer until the squash is tender.
By now the potatoes are prefectly crispy 😎⏰
Stir all the fresh herbs and little bit of sweetener into your stew and serve with the potatoes.
📖 Ingredient notes
This stew is absolutely at its best when summer vegetables are at their best. Make this when tomatoes are busting on the vines and sweet corn is abundant. Use the ugliest, ripest tomatoes. By late summer the butternut squash is tender and ready to go too.
If using fresh corn from the cob, slice it off the cob over the top of a large bowl and try to catch all the milky sweet juices from the fresh corn. Use one of these techniques.
When fresh tomatoes are pale and tasteless you have a couple of options:
Good-quality canned tomatoes, use about 2 cups diced canned tomatoes, a 540ml can is the perfect amount. I like this fire-roasted variety.
Cherry tomatoes! Cherry tomatoes are sweet year-round and are a good fresh alternative here. If using cherry tomatoes, I toss them in just at the very end of the cooking time. So they stay bright and red and just warmed, not so cooked that the skins fall off. So once the squash is done, toss them in with the fresh herbs and simmer for just a minute or two. That's it.
I've added a jalapeno, because we usually have those ready in the garden too, and we like a little bit of heat. Up to you, this is optional. I find the sweetness of the corn and squash work nicely with a little bit of hot pepper.
Can I use frozen vegetables?
Yes!
Sometimes fresh is just not available. So here a few ways to substitute in frozen ingredients.
I always use frozen lima beans. They are a staple in my kitchen. (Try this recipe for garlicky roasted limas if you are not sure you are a fan, it will change your mind.)
Frozen corn kernels, also a staple, will work well in a pinch.
Butternut squash is available year-end in most produce sections. To save some time, you can also find it in the freezer section. Go ahead and give that a try.
🍴Serving and storage
This recipe makes a lot of stew! I make one batch and divide it half, saving half for the freezer. The stew (no potatoes) will freeze very well and keep for about 3-4 months frozen.
We are a family of four, half the stew, and 1 lb of roasted potatoes feeds us generously for a weeknight meal. The recipe below assumes you will save half of the stew for another meal. Double the potatoes if you need more than 4 servings.
Skip the potatoes if you want! And serve with a loaf of crusty bread (which may not be gluten-free) or on a bed of rice or quinoa to round out the meal.
📖 Recipe
Summer Succotash with Roasted Potatoes
a sweet late summer stew of tomatoes, butternut squash, fresh sweet corn and lima beens served over oven-roasted potatoes
Ingredients
For the potatoes (4 servings, double for 8)
2

teaspoon

olive oil

extra virgin. divided

1

lb

new garden potatoes, scrubbed and diced into 1 inch chunks
For the Succotash (serves 8, save half for later)
1

teaspoon

olive oil or butter

2

large leeks

cleaned, white and light green parts thinly sliced into half moons

1

tablespoon

Braggs liquid aminos

or soy sauce

1

jalapeno pepper

diced small, optional

2

tablespoon

all purpose flour

1

cup

vegetable stock

1-½

cups

butternut squash, seeded and diced

½ inch diced

2

cups

fresh garden tomatoes, chopped

or a 540ml can of diced fire-roasted tomatoes

2

cups

frozen shelled lima beans

3

cup

fresh or frozen corn kernels

if using fresh, careful to catch the sweet milky juice from the cobs and add to the stew. You will need 4-6 ears of corn

1-2

teaspoon

honey or other liquid sweetener

1

cup

fresh mixed herbs

parsley, basil, cilantro

salt and pepper to taste
Instructions
Preheat oven to 400 degrees. On top of a rimmed baking sheet toss potatoes with 2 teaspoons of olive oil until potatoes are well coated. Spread evenly into a single layer. Season with salt and pepper. Roast potatoes at 400 until crispy and tender, about 30 minutes while you make the stew.

In a large dutch oven, heat remaining 1 teaspoon of olive oil over medium heat. Add leeks and saute until soft, about 6 minutes. Add jalapeno and liquid aminos, and saute for another minute. Sprinkle with flour and stir and cook for about 2 minutes.

Add stock, whisking until smooth. Add squash and tomatoes. Cover and simmer. After about 10 minutes add lima beans and fresh sweet corn. Continue to simmer until squash is tender, about 15 additional minutes.

Remove from heat. Stir in honey, herbs, salt and pepper. Taste for seasoning, adding more honey or salt as necessary. Separate out half ot the stew for freezing for a second meal. Serve the remaining half, hot over roasted potatoes.
Notes
This recipe assumes you will make the full recipe and freeze half. 1lb potatoes are meant to serve 4 people and nutritional info reflects this.
The stew freezes very well, move half to the prepared stew to a large ziptop freezer bag, squeezing out as much of the air as possible. Lay flat to freeze. Will keep frozen for about 3 months.  To reheat, allow to thaw in the refrigerator overnight then move to a sauce pot to heat through before serving.
Calories:
265
kcal
(13%)
Carbohydrates:
52
g
(17%)
Protein:
9
g
(18%)
Fat:
4
g
(6%)
Saturated Fat:
1
g
(6%)
Sodium:
283
mg
(12%)
Potassium:
1035
mg
(30%)
Fiber:
8
g
(33%)
Sugar:
6
g
(7%)
Vitamin A:
4227
IU
(85%)
Vitamin C:
52
mg
(63%)
Calcium:
70
mg
(7%)
Iron:
3
mg
(17%)