Jump to Recipe
Print Recipe
A hearty side-dish or vegetarian main dish. Barley, lots of greens with lemon and garlic for a little kick.
Barley with lemon and kale. This is the barley dish that may actually get you loving barley's whole grain goodness.
Barley. I have to admit, it's a hard one. I've tried and failed.. so many times with barley. Believe me. Even with a few successful barley recipes... like this one, or this one... in general, I think barley gives whole grains a bad rap. It's just hard to work with.
Barley is not as universal as some other grains. Rice or quinoa just seem to work with whatever, wherever, but barley is kinda picky about what flavours it plays nice with.
This dish was a total surprise to me. Barley with Lemon and Kale. The ratio of greens and grains is just so perfect. The magic rule here - more greens than grains. I didn't know. But it works. I used just half a cup of uncooked barley for this dish. And a whole bundle of kale leaves. The kale will seem excessive when you first add it to the fry pan, but it will cook down. You need lots of lemon and garlic is good too.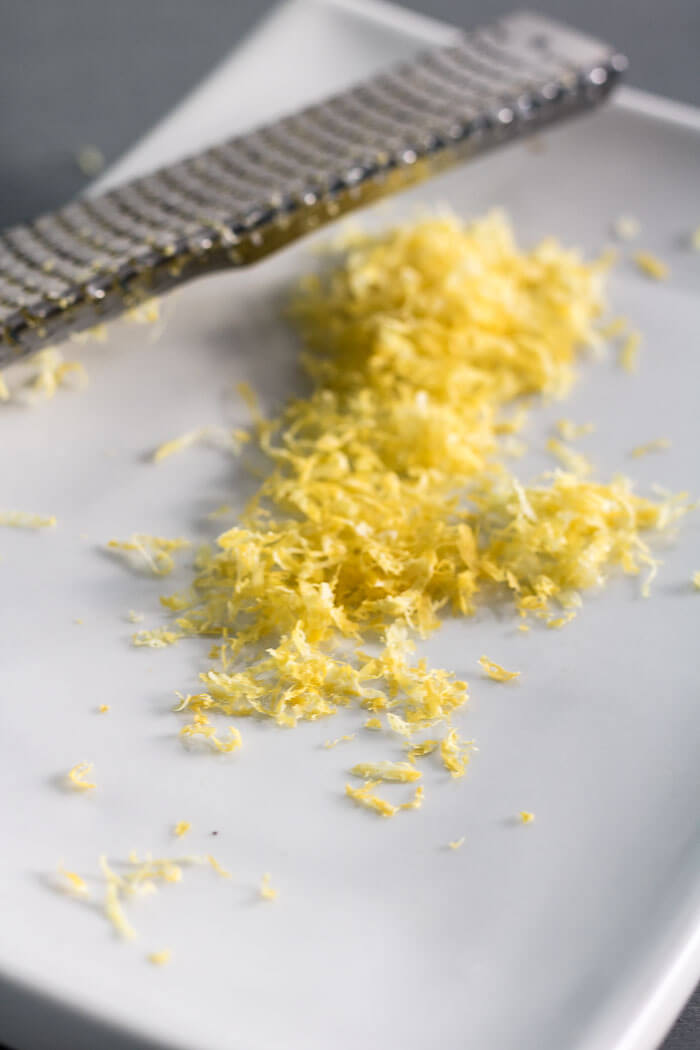 This garlickly, lemony combination has renewed my love for whole, hearty grains. Greens and grains go so well together.
A few notes on Barley with Lemon and Kale
Be generous with all the flavour - lemon and garlic. The barley can take it. It needs it.
A little spice from red chili flakes makes the the lemon sing
I used pearl barley when I tested this recipe. You can use pot or pearl barley interchangeably in most recipes - and I think this is true here as well. I don't find the difference significant.
Barley is NOT gluten-free
To cook barley, the easiest - in my opinion - is to boil a generous amount of well salted water, add the grains, then turn the pot to a simmer for 40 minutes. Test the barley, to see if it is tender, then drain off the excess water.
Leftovers make the best packed lunch
📖 Recipe
Barley with Lemon and Kale
A hearty side-dish or vegetarian main dish. Barley, lots of greens with lemon and garlic for a little kick.
Ingredients
½

cup

pearl barley

salted water - a least 1 quart

1

lb

of fresh kale

1

tablespoons

olive oil

2

small onions

finely chopped

4

cloves

of garlic

crushed

½ - 1

teaspoon

red pepper flakes

zest of one lemon

juice from one lemon

olive oil for tossing
Instructions
Cook barley
Bring 1 quart of salted water to a boil in a medium sized sauce pan, add barley and cook until tender. About 45 minutes. To drain pour water and barley through a large mesh sieve and set over the pot (off the heat) to drain completely while you prepare the rest of your ingredients.
For the kale:
Meanwhile, heat a large saute pan over medium heat. Add 1 tablespoon olive oil and then the chopped onions. Saute onions until soft and slightly caramelized. This will take about 10 minutes. Add garlic and saute for another minute or two. Toss in hot pepper flakes, stir a bit, then add kale (it will seem like so, so much kale, but it will cook down). Continue to saute until the kale is tender and wilted - 5 to 7 minutes - then remove from heat.

In a large bowl, or in the cooling saute pan, toss barley, kale and lemon zest together. Sprinkle with lemon juice and season with salt and pepper to taste. Drizzle with a little of your favourite rich tasting extra virgin olive oil and serve.
Notes
Be generous with the lemon and garlic, barley can take lots of flavours
Barley is not a gluten-free grain. 
I tested this recipe with pearl barley. You can use pot barley if you wanted, it will take slightly longer to cook but otherwise is interchangeable in this recipe. 
Calories:
203
kcal
(10%)
Carbohydrates:
36
g
(12%)
Protein:
8
g
(16%)
Fat:
5
g
(8%)
Saturated Fat:
1
g
(6%)
Sodium:
60
mg
(3%)
Potassium:
734
mg
(21%)
Fiber:
5
g
(21%)
Sugar:
3
g
(3%)
Vitamin A:
11558
IU
(231%)
Vitamin C:
141
mg
(171%)
Calcium:
198
mg
(20%)
Iron:
3
mg
(17%)
Helpful tools for this recipe: