Jump to Recipe
Print Recipe
A bright and colourful holiday salad that can be mostly prepared ahead of time. Just toss with the dressing before serving.
Gluten-free, Vegan, Vegetarian
Raw shaved Brussels sprout salad with quinoa, cranberries and walnuts is just perfect for family gatherings. Prepare most of the salad ahead of time and toss everything together just before servings. Easy!  Crunchy, sweet and good for you too.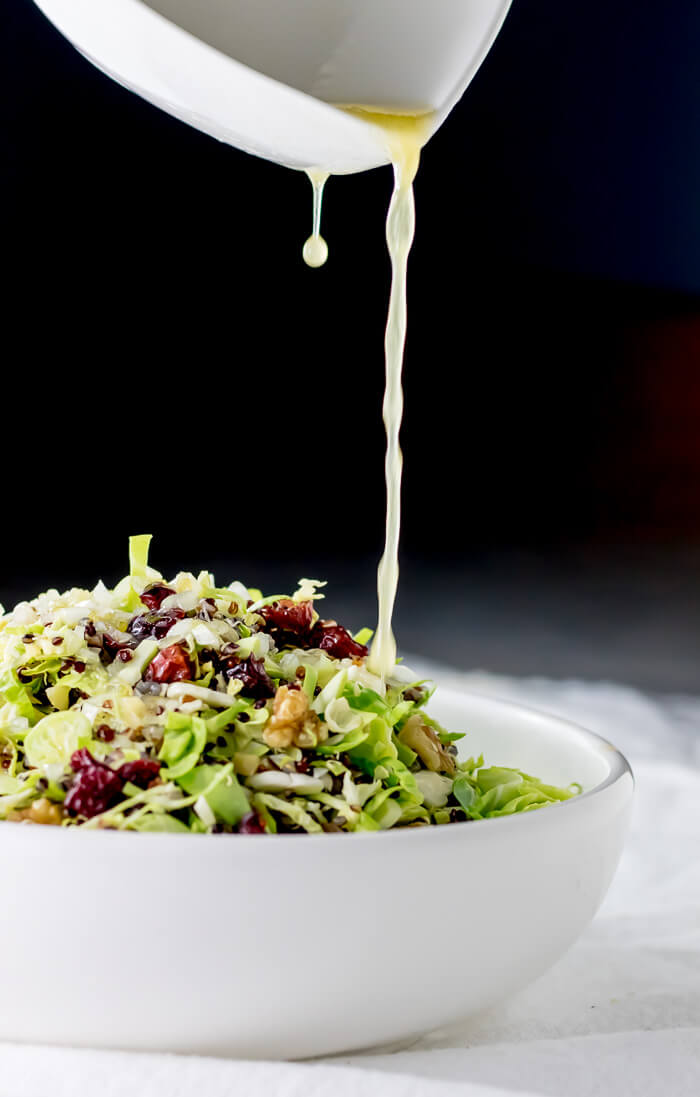 This might be my favourite way to eat Brussels Sprouts. I just love the crunch of shaved, raw Brussels Sprouts. And don't be scared, they are not bitter at all.  I am of the opinion that if you think you don't like cooked Brussels Sprouts you very well might like them raw. They are sweet and crunchy... not that much different than a cabbage.
In fact, I've always considered them just little baby cabbages. 🤣
This Shaved Brussels Sprout and Cranberry Salad has a decidedly holiday twist with the dried cranberries and walnuts. I've used a very basic lemon dressing with a little sweetener to sweeten things up. Nothing crazy. Use maple syrup to keep this salad vegan. Otherwise, honey is nice. 
This is easy stuff to throw together... which is ideal when you have dinner to get on the table for special guests or a special occasion or what-have you....It's that time of year! Full of friends and visiting and all those things, it can be hectic. So making things easy is the name of the game.
So ahead of time, make the dressing and prep all the parts of the salad. Clean and slice the sprouts and toast the walnuts. Pack everything up (keep the toasted walnuts separate for maximum crunch and toasty-ness) and just toss together in a pretty bowl before serving.
Meal-prep and holiday prep game plan
This is one of those dishes that is just perfect for adding to a holiday dinner for a large crowd. You can get everything ready ahead of time and assemble just before serving.
➨ 2 days ahead of time
Cook the quinoa according to package directions and let cool in the refrigerator. It should be completely cooled before tossing the salad. I usually make it the day before. I cup raw quinoa will yield about 3 cups cooked.
My favourite brand of quinoa is available here. It is available in white, red or black. For this salad, I prefer red or black only because the colour is a nice contrast, but you can use what you have on hand.
Clean and prep the Brussels sprouts. Remove the outer leaves. Thinly slice the sprouts. You can use a food processor to do this or do as I do and just use a very sharp knife. The sprouts will keep sliced in a container in the fridge for a day or two.
Make the dressing. The dressing will keep for several days refrigerated in an airtight container. The dressing will keep for about 5 days.
➨The day before
Make the salad. In a large bowl with a tight-fitting lid, add the shaved sprouts, cooked and cooled quinoa and cranberries. Stash in the refrigerator until just before serving.
Toast the walnuts. Toast the walnuts in a hot, dry skillet until just fragrant. I like to chop them very roughly after I've toasted them. If doing this step ahead of time I find they stay the crunchiest if you pack them separately in an airtight container after they cool and keep at room temperature. Or you can leave the toasting step to just before serving.
➨Just before serving
Just before serving toss it all together with the dressing and transfer to a pretty bowl.
This Brussels Sprout salad will keep, tossed, for a good hour or two without losing much crunch.
Storage and other recipe notes
I've been known to eat this salad the next day. Not quite as crunchy, but like any good slaw, it's still fairly sturdy. Don't expect to keep leftovers for more than a day.
I love this salad with a weeknight meal -- but the recipe as written makes far too much. Make half or even a third and serve for dinner.
➨ Make this quinoa and brussel sprout salad as part of your family's menu and meal prep
Because the components for this raw brussel sprout salad can be assembled but not dressed ahead of time, this quinoa salad is great for meal prep and makes a nice packed lunch.
Just pack the dressing separately and you can make and eat smaller portions of this salad for lunch or part of busy weeknight meals for several days, if not all week.
Make the dressing and keep it on hand for quick side-salads during the week. Just use the amount you need for smaller, family-sized meals.
📖 Recipe
Raw Brussels Sprout Salad with Quinoa, Cranberry & Walnuts
A bright and colourful holiday salad that can be mostly prepared ahead of time. Just toss with the dressing before serving.
Ingredients
For the vinaigrette:

½

lemon

juiced

1

orange

juiced

2

tablespoons

finely minced shallot

or red onion

⅓

cup

oil

olive, avocado or walnut, or some combination

1

tablespoon

sugar

¼-1/2

teaspoon

of salt

freshly grated black pepper to taste
for the salad:
16

oz

of finely shredded Brussels Sprouts

2

cup

cooked quinoa

I used black quinoa, red would be nice too, but white is fine

1

cup

dried cranberries

1

cup

toasted walnuts

pecans or almonds work nicely too
Instructions
In a 500ml mason jar or small bowl add all dressing ingredients and whisk to combine. Or place lid on mason jar and shake well.

In a large mixing bowl combine all salad ingredients and toss well. Just before servings, toss dressing over salad greens and toss until well combined and evenly coated. Serve.
Notes
This recipe makes enough to serve a crowd, as a small side dish.
The recipe can easily be scaled for smaller dinner parties. Although, I'd make the full dressing recipe, use what you need for the amount of salad on hand and then store the rest. The dressing with keep refrigerated for about 5 days.
Salad is best if served just after tossing. So for gatherings and dinner parties, prepare everything ahead of time, including toasting the walnuts and cooking the quinoa. Toss the salad ingredients in a large bowl, but don't add the dressing until just before serving. 
Calories:
215
kcal
(11%)
Carbohydrates:
23
g
(8%)
Protein:
4
g
(8%)
Fat:
13
g
(20%)
Saturated Fat:
1
g
(6%)
Sodium:
61
mg
(3%)
Potassium:
279
mg
(8%)
Fiber:
4
g
(17%)
Sugar:
10
g
(11%)
Vitamin A:
310
IU
(6%)
Vitamin C:
41
mg
(50%)
Calcium:
37
mg
(4%)
Iron:
1
mg
(6%)