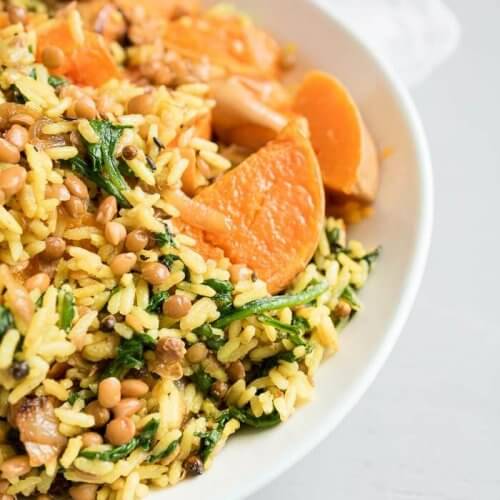 Jump to Recipe
Print Recipe
Perfect for the holiday table as the star of table or as vegetarian side dish. Serve this beautiful dish whenever you need an impressive vegetarian main.
Special Occassion, Vegan, Vegetarian
I like to think of this dish as like stuffed butternut squash but really more of unstuffed winter squash. This roasted butternut squash with spiced rice and lentil stuffing is rich and satisfying. A beautiful vegetarian main dish for the holiday table.
When I dream of holiday meals, this is what I dream of.
A plant-forward main dish for special occasions
Sweet, colourful veggies with a flavourful grain. If you are looking for a plant-focused holiday main, this is it. This is your centrepiece.
This unstuffed winter squash is full of warm spices, hearty and festive. The spiced rice and lentil stuffing filling and satisfying.
Of course, you can serve this dish alongside a traditional holiday meal. It makes a side dish that everyone will love and the vegetarians at the table can fully enjoy.
You have a couple of options for serving:
you could make the stuffing and serve it inside a whole roasted squash or two... there is enough stuffing for at least 2 whole squash, you will have far more rice and lentils than needed just for stuffing. Serve the extra on as a side in its own right.
Or you can do what I do - as much as my / your guest might want a majestic main dish at the center of the table, they will all appreciate how much easier it is to serve when the squash is roasted in pieces. I'm all about convenience sometimes.
Unstuffed winter squash is easy for holiday entertaining
This recipe comes from The Good Veg cookbook by Alice Hart. I made some minor modifications so that it is a bit easier to pull together.
➞I've used one large butternut and cut it up for roasting. This saves time and they are easy to find. You will need about a 2-3 lb squash for this recipe. Depending on the size of the crowd you are serving, you can easily go larger
➞I've seasoned the butternut with sriracha and honey before roasting - because it makes the butternut sing. I discovered this combination a while back and it is now my go-to anytime I am roasting sweet potatoes or squash. It does add some heat - in my mind not too much - but if you don't like spicy, then just season the squash with olive oil, salt, and pepper. It will be just as good, and less spicy.
➞To keep this dish vegan, use another liquid sweetener, like maple syrup, instead of honey.
➞I've used ground spices instead of whole. Whole spices are beautiful and, yes, so much more fragrant then ground. But I find whole spices difficult to deal with in the final dish. Nobody likes biting into a coriander seed.
➞I've also used canned lentils here, to make this much faster. If you are feeling ambitious, or have the forethought to cook your lentils ahead of time, please do so. Little black French puy lentils would be very pretty in this dish.
Here is your step-by-step game plan for this recipe:
Start with the squash and get that into the oven
While the squash cooks, start the onions. They need time to caramelize properly. And will be happy hanging out in the fry pan while you wait for the rest of the dish components to finish cooking, just keep the heat on low. LOW AND SLOW
Once the onions are started, cook the rice. The rice needs to be hot when you stir in the spinach. Hot enough for the spinach to wilt. But you don't want to make it sit too long, so the spinach stays vibrant green.
You can use a rice cooker! My favourite small appliance. A rice cooker helps you and frees up a burner on the stovetop. Just mix in the spices with the rice and stock right in the rice cooker pot. And bonus, the rice will stay hot for you until you are ready for it, and the spinach.
📖 Recipe
Unstuffed Winter Squash with Rice and Lentils
Perfect for the holiday table as the star of table or as vegetarian side dish. Serve this beautiful dish whenever you need an impressive vegetarian main.
Ingredients
1

large butternut squash

scrubed and cut into chunks, do not peel, about 2 lbs

2

tablespoon

sriracha sauce (optional)

2

tablespoon

honey or other liquid sweetener (optional)

1

tbsp

olive oil
For the rice and lentils
2

large onions finely diced

1

tablespoon

ground coriander

2

teaspoon

whole cumin seeds

or 1 teaspoon ground cumin seeds

1-¼

cups

medium grain white rice

½

teaspoon

ground turmeric

pinch

chili flakes

2

cups

or 18oz can of cooked lentils

green, brown or black

7

cups

baby spinach

2-½

cups

vegetable stock
Instructions
Preheat oven to 375. Wash the squash and remove seeds. Slice in large, 1 inch thick chunks. Larger than bite sized.

Optional: combine sriracha and honey and oil in a small bowl then brush on the squash pieces. Arrange on a rimmed baking sheet and roast 25-35 minutes.

Alternately: arrange squash on a rimmed baking sheet and brush with olive oil and season with salt and pepper. Roast at 375 for 25-35 minutes

Check squash at the 20 minute mark, flip the pieces if you feel driven to do so. It will need an additional 10-15 minutes more. Err on the side of more. You want the squash to be fork tender and browned around edges. Look for carmalization before removing from the oven.

While the squash is roasting, start the onions. In a large saute pan heat 2 tablespoon of oil over medium heat. Add onions and fry, stiring often for about 10 minutes. Onions should begin to soften and brown. Reduce heat and allow the onions to fry, stirring occasionally. They should become very soft and brown. This could take an additional 10-15 minutes. Add a bit more oil if they seem to be sticking too much. You want them very soft and caramelized. Season with salt and set aside. Leave in the fry pan.

While the onions are cooking, make rice: place cumin seeds, coriander and 2 tablespoons of oil in a medium sauce pan. Bring oil to temperature over medium heat then quickly add rice, stock and tumeric. Do not burn the spices. Bring to a boil, cover and reduce heat to a simmer. Cook for 25 minutes or until rice is tender.

When rice is complete, add spinach. Folding it into the hot rice so that it wilts. Stir in lentils. Then hot onions. Check for seasoning. Add salt and pepper as necessary. Make sure the rice if nicely seasoned. You should taste the spices.

Remove the squash from the oven. In a serving platter arrange squash and rice mixture, layering and gently tossing together. Serve.
Calories:
294
kcal
(15%)
Carbohydrates:
61
g
(20%)
Protein:
10
g
(20%)
Fat:
3
g
(5%)
Saturated Fat:
1
g
(6%)
Polyunsaturated Fat:
1
g
Monounsaturated Fat:
2
g
Sodium:
1409
mg
(61%)
Potassium:
865
mg
(25%)
Fiber:
9
g
(38%)
Sugar:
12
g
(13%)
Vitamin A:
15221
IU
(304%)
Vitamin C:
37
mg
(45%)
Calcium:
116
mg
(12%)
Iron:
4
mg
(22%)
More substantial vegetarian holiday dishes
Lemony Barley with Garlic and Kale