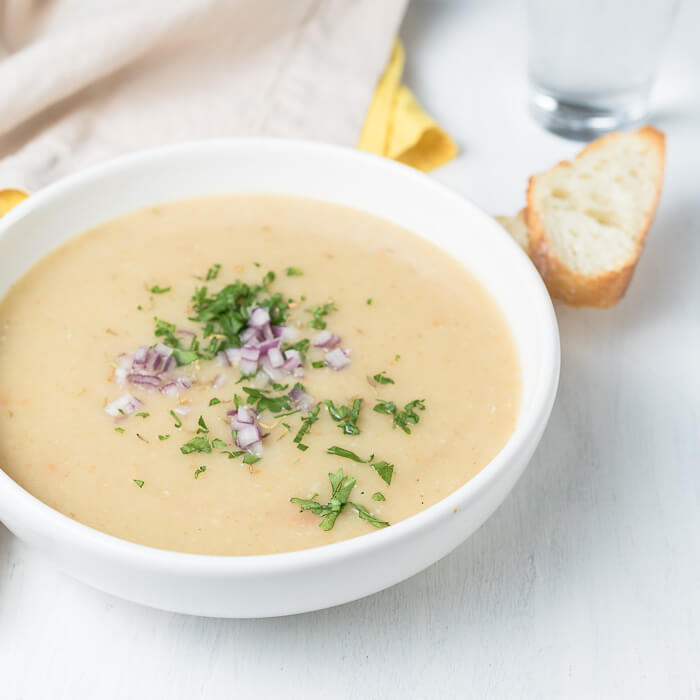 Jump to Recipe
Print Recipe
A classic and hearty vegan soup, packed full of garlic to cure all your winter ills.
Gluten-free, Vegan, Vegetarian
Originally posted in December 2012, I've updated this post and recipe with new photos and useful tips.
This simple creamy garlic soup is vegan and is easy to whip together with simple ingredients. Definitely pungent, but in all the good ways.
I am certain this is my Polish grandfather's recipe. While he never made anything like this for me, he definitely would have busted this out when kids were sick. This is just his style. Simple, hearty, easy ingredients. Packed full of garlic.
And powerful. Grampa believed in the power of food. This soup will heal colds, flu, and fever. At least it will warm and comfort you when you are feeling under the weather.
Garlic is incredibly immune-boosting. A powerful herb, full of antioxidants and wellness-boosting properties. And in this soup, there is a bunch of it. A whole head of garlic. For real!
The garlic flavour here is strong but mellowed from the slow simmering. Still, if you are not a garlic fan you probably want to try something tamer. Try this sweet carrot soup instead.
How to make vegan garlic soup
I think what I like best about this soup is that is so basic. Start with onions, carrots, and celery and saute until they begin to soften. Not brown. Just started to wilt a bit.
Add in the potatoes and garlic and saute some more. I like to reduce to heat here a little so the garlic does not burn.
Use fresh garlic here for the best flavor. This is not the time to use up that old head of garlic you have sitting at the bottom of the garlic bowl that is all dried up and rubbery. Garlic is cheap, so go buy fresh, tight heads of garlic.
After that, add your stock and some water, enough water to measure about 6 cups and bring to a boil. Then reduce heat, cover and simmer for about 30 minutes. Potatoes should soft enough to squish when you push on them with a spoon.
Then just puree until smooth and creamy.
So simple and so so satisfying.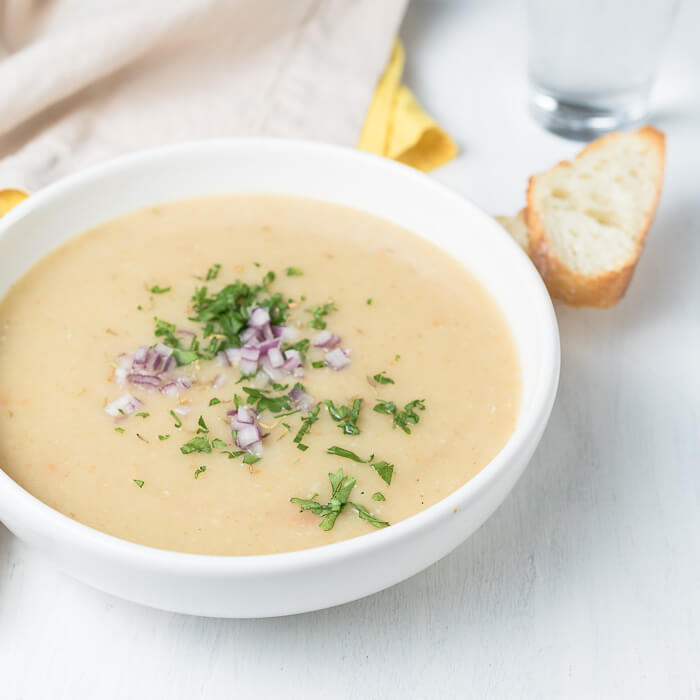 A few more tips
This is a pureed soup, so don't worry too much about how nicely you have chopped the veggies before you throw them into the pot. My son did the chopping, it was not pretty. But it didn't matter.
I like my immersion blender for pureeing the soup. It's an inexpensive kitchen tool that I find I'm reaching for more often. It makes cleanup easier.
If you don't have an immersion blender, a standard blender or food processor will also work. Just work in batches and be careful to vent the blender jar (processor bowl) and cover the vent with a kitchen towel to avoid steam burns.
The soup requires a generous amount of salt. If you are using homemade stock, you may need to add a bit more salt. My homemade stock is fairly low on the salt scale. A store-bought variety will not need nearly as much. However, I like to use low-sodium vegetable stock when I cook so I can control the salt in my recipes.
Crusty bread or croutons are required. The best part of this soup is that slightly soggy bread you just dipped into the soup. 🙂
📖 Recipe
Cream of Garlic and Potato Soup
A classic and hearty vegan soup, packed full of garlic to cure all your winter ills.
Ingredients
1

tablespoon

olive oil

1

yellow onion

peeled and chopped

1

small carrot

peeled and chopped

1

celery stalk

chopped

2

lbs

potatoes

russet or Yukon gold potatoes, peeled, chopped

Cloves

from a whole head of garlic

yes, all of it, separated into cloves and peeled

6-7

cups

of liquid

I highly recommend several cups of a good quality vegetable stock plus water to make the required amount

1

teaspoon

of dried thyme

1

bay leaf

salt and pepper to taste

finely chopped green onion, chives or red onion for serving
Instructions
Heat olive oil in a large sauté or soup pot over medium heat. Add onion, carrot, and celery.  Saute about 5 minutes as the vegetables start to become fragrant and tender. Reduce heat and add garlic, potatoes and continue to saute for several additional minutes. Onion will become soft. Add stock and water, thyme and bay leaf. Bring to a boil, then reduce to a simmer. Add some salt and pepper.  Slightly cover, and simmer until all the vegetables are very tender, about 30 minutes.

Remove the soup from the heat. Using a blender or an immersion blender puree the soup in batches. Careful to vent the blender lid to allow steam to escape.

Return to pot and bring up to serving temperature. Check for seasonings. Serve with chopped onions and crusty bread for dipping.
Notes
Use the freshest garlic you can get your hands on. Look for tight and firm heads.
I like yellow flesh potatos for this soup - Yukon gold is my favourite
I find this soup is best fresh, it will keep for a while on the stove and leftovers heat up well, however!, the garlic will get stronger as it sits. Don't say I didn't warn you.
Calories:
203
kcal
(10%)
Carbohydrates:
38
g
(13%)
Protein:
7
g
(14%)
Fat:
4
g
(6%)
Saturated Fat:
1
g
(6%)
Sodium:
976
mg
(42%)
Potassium:
1056
mg
(30%)
Fiber:
7
g
(29%)
Sugar:
4
g
(4%)
Vitamin A:
3048
IU
(61%)
Vitamin C:
31
mg
(38%)
Calcium:
93
mg
(9%)
Iron:
8
mg
(44%)
More creamy vegan soups:
Curried Carrot Soup with Coconut
Cream of Turnip and Carrot Soup
Roasted Parsnip Soup with Fennel