This chocolate cake is made with honey. I love this cake.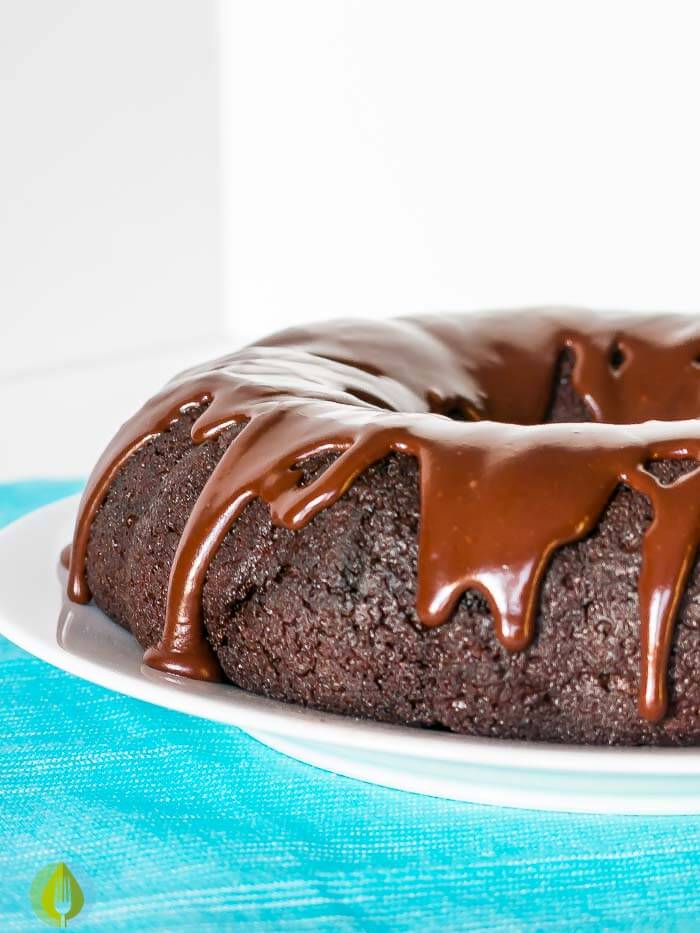 I must say a few things about this chocolate cake recipe. First -- this is one of, it not, the best chocolate cakes you will ever eat. Honestly - I know chocolate cake. It is moist and sweet, yet still carries a deep chocolate flavour. Secondly it tastes, and looks, just like a Double Chocolate Glazed Donut. Tim's Horton's as a matter of fact. Which might be our most favourite donut ever. And third - this cake turns out perfectly each and every time. It's fool proof. Well, as long as you follow it step by step. Once you have tried this cake you will want to make it again and again. It is that good.
The recipe is slightly modified from Nigella Lawson's "Feast." I like how the bundt pan made the cake look like a giant chocolate glaze donut. If you are celebrating a kids bday consider multi coloured sprinkles.... because well it would be fun.
Chocolate sprinkle doughnut cake
a sweet, moist, deeply chocolate-ly cake made with honey
Ingredients
For the cake:
4

squares dark chocolate

4ozs, or 400 grams

1

cup

white sugar

275 grams

2

sticks or 1 cup unsalted butter

225 grams

125

mls runny honey

2

eggs

200

grams

plain flour

sorry forgot to measure this one in my measuring cup

1

teaspoon

baking soda

1

tablespoon

cocoa powder

pushed through a sieve so there is no lumps

250

ml

boiling water
for the glaze:
60

ml

water

125

ml

runny honey

175

g

dark chocolate

75

g

icing sugar
Instructions
All ingredients should be a room temperature - so take them out a bit early. Prepare your cake pan, I suggest butter and flour in this case.

Melt the chocolate in a medium-sized glass bowl. Place in the microwave and at 15 second intervals melt , stirring in between.

Preheat oven to 350

In a stand mixer, beat together sugar and butter until very creamy and airy. Add the honey and mix again. Add the eggs one at a time, beating in 1 tablespoon of flour with each. Fold in the melted chocolate. Then fold in the flour and baking soda and cocoa powder. Finally scrape down the bowl and beat in the boiling water. Mix until you have smooth batter. Pour into your prepared pan. Bake for about one hour - but check after 45 mins, depending on the pan you use. Cool completely before icing.
for the glaze:
Bring the water and the honey to a boil in a small saucepan, remove from the heat and add the chocolate and stir until chocolate is fully melted. Let cool for a bit then whisk well. Whisk in the icing sugar. Note you can force in more icing sugar for a thicker glaze. However, I find that this ratio makes a nice shiny glaze. This glaze will thicken as it cools.
To assemble the cake.
The cake must be completely cook in the bundt pan before you attempt to remove it. You may want to run a thin knife very lightly and gently around the edges and around the inside center for the pan to loosen it slightly. Place your serving platter upside down over top of open end of the bundt pan and turn the whole thing over. So that the cake pan is now on top of the platter. Gently lift the bundt pan up and away from the platter. Just an inch. Eventually you will feel the cake fall out (hopefully!) then you can remove the pan.

Pour the icing over top of the cake. This glaze is very sticky so depending on how much you want to allow to puddle on the bottom of the platter, go easy or not. The glaze becomes all fudgy and goodness. When it is time for serving the kids will fight over it anyway.